Comic Book Men Preview: Kevin Smith's Series Premieres On AMC Next Month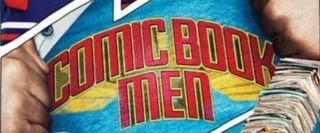 Everyone is eagerly anticipating the return of the second half of Season 2 of AMC's breakout comic book adaptation The Walking Dead. The series has captured the imaginations of comic and non-comic fans alike which makes it the perfect lead in for the new Kevin Smith produced reality show about comics. The new series from the writer-director-personality is called Comic Book Men and follows the exploits and cultural conversations of the employees and hangers-on at his store Jay and Silent Bob's Secret Stash.
The first season of the new series makes its debut on February 12 and will be made up of six, one-hour unscripted episodes. With the kind of cult following that Smith has acquired over the years, the show should have no problem finding an audience even without the amazing The Walking Dead set-up. Also, the 'cast' members are all either regulars in his films or contribute to the podcast "Tell-em Steve Dave!" - a reference to the character frequently played by Secret Stash hanger-on Bryan Johnson. For the new series he's joined by manager of the Jersey Stash, Walt Flanagan, employees Mike and Ming as well as the head honcho Smith himself.
We already shared the first two promos for the series but this Comic Book Men tumblr account has collected all six. Typical comic book fans, collecting them all! Here are two more brief looks at the show and head over to the tumblr page, shared by Kevin himself, for the remaining two.
Comic Book Men premieres on February 12 after The Walking Dead on AMC
Official synopsis via AMC's website,
Your Daily Blend of Entertainment News
Your Daily Blend of Entertainment News
Thank you for signing up to CinemaBlend. You will receive a verification email shortly.
There was a problem. Please refresh the page and try again.