Comic-Con 2011: Sons Of Anarchy Panel, Interviews And Photos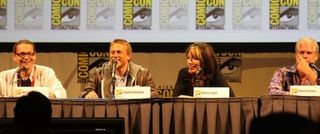 My last panel at Comic-Con just happened to be for one of my new favorite shows. I wasn't a fan of Sons of Anarchy until recently, but thanks in large part to Netflix for making the first two seasons available, I got on board earlier this year and now I'm among the many who can't wait for the FX drama to return this fall.
Before attending the panel, I had the opportunity to sit down with Charlie Hunnam, Ron Perlman, Katey Sagal and Kurt Sutter to talk about the fourth season, which premieres with a 90-minute episode on September 6th on FX. Between that and the panel, I have some interesting things to share about the season.
Some spoilers ahead!
The panel began with a four-minute clip from Season 4, which showed where everyone is a year-and-change after Season 3 ended. Gemma is shown happily grandmothering Jax's babies at home (Abel is getting so big!) while Jax and the rest of the SAMCRO crew that was arrested are preparing to leave prison as a group. The sight of the men getting on their bikes and riding away from the correctional facility that served as their home for over a year is like a roaring-loud breath of fresh air.
For those of you wondering what the incarcerated SAMCRO guys were getting up to over the course of their 14/15-month incarceration, series creator Kurt Sutter says they're going to start putting out appisodes, beginning next week that fill people in on what's been going on with them. Three of the videos will be made public and the fourth will be just for the DVD. "It'll show scenes of key moments that have happened over the last fourteen or fifteen months," Sutter said. "It's the kind of thing where you don't need to have seen them to understand what's going on this season, but it'll give you an inside view of some of the things that get dealt with this season."
Even if you didn't know that actress Katey Sagal and Sons creator Kurt Sutter were married, the connection between the two is evident from the way they are with each other, and it was great to get to sit with both of them together in the press-room to talk about the show.
As for what's going on in Charming, Ron Perlman offered up some interesting information on how things are in Charming when Season 4 picks up…
The new sheriff is going to be played by Rockmond Dunbar, and Sutter told us during the panel that "racial dynanics" will be explored and Dunbar's character will tie into that. Hearing this has me even more excited for Dunbar to join the show. Not only do I appreciate him as an actor, but from what Perlman said, it sounds like things are really going to be different in Charming, and not in a good way (for SAMCRO anyway). We came into this show as viewers with SAMCRO already establish and sort of comfortable in their place among Charming's people. I can't wait to see what they have to do to "assert themselves" in order to reclaim their authority.
The Russians will come in to play at some point in Season 4, as will a Mexican based organized crime unit, which ties into Danny Trejo's role in the season.
On to more pressing matters, Jax cut his hair! That's not news, but apparently Charlie Hunnam made the decision to Felicity his hair on his own. Here's what he told us about that…
He did say during the panel that it's likely that Jax will grow his hair out again, so those of you who loved Jax's blonde locks will eventually see them again.
And finally, on the Jax and Tara front, it sounds like prison will have had an effect on Jax's priorities. Hunnam says Jax will come out with a stronger resolve that family comes first. Considering his responsibilities with the club and what we've heard about how things are going to be in Charming, it's going to be very interesting to see how Jax juggles everything.
Image 1 of 4
Your Daily Blend of Entertainment News
Assistant Managing Editor
Kelly joined CinemaBlend as a freelance TV news writer in 2006 and went on to serve as the site's TV Editor before moving over to other roles on the site. At present, she's an Assistant Managing Editor who spends much of her time brainstorming and editing feature content on the site.