Comic-Con 2011: Supernatural Panel Live Blog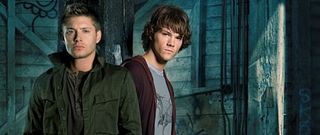 The Supernatural panel is about to start here in Hall H at Comic-Con. Series stars Jared Padalecki and Jensen Ackles will be here to answer questions and talk about the show. I'll be live-blogging the panel as it plays out in front of me, so stick around and hit refresh for updates!
The panel starts at 11:15 and is listed as a "Screening and Q&A" in Comic-Con's description. I have no ideas exactly how much time will be focused on the clips, but assuming panel starts with the video, I'll begin updating once the cast takes the stage.
Just a quick "warning," I'm not a regular viewer of Supernatural, so there may be references I don't get, but I'm going to do my best to relay the information shared at the panel with all of you!
11:24 a.m. - The panel is starting! Jensen Ackles just stepped onto the stage. The crowd's going nuts. He's here to intro a clip. Sam's in it but no Dean... Clip time... 11:30 a.m. - Starts with a montage of clips (explosions, stabbings and other dramatic things) set to Foreigner's "Long, Long, Way Home." Afterward, the clip (spoilers!) features Jewel Staite and Sam having some kind of stand-off. It's implied that Sam knows this woman well. Cut to a flashback of the two of them as teens, hanging out and talking about moving around a lot. Then back to the present where we're left with a cliffhanger as far as what happens next in the stand-off.
11:32 - The panel has joined the stage. Jensen and Jared talking about Jensen directing an episode. Jared tried not to behave when Jensen was directing. He pauses to joke about it smelling like Robert Pattinson on stage. Back to directing the episode, Jensen says, "I don't have to tell this guy how to be Sam..." Performance-wise, they're always looking out for each other no matter who's directing.
11:35 - Misha being asked about Castiel. He's been surprised that no one has written a god-role him yet in his career. Everyone laughs. He says playing god is an interesting challenge. Exec-producer Sera Gamble says Castiel will be in the first couple of episodes, but she wont say more than that.
11:39 - They're talking about Crowly and what his situation is after something that happened with Castiel. Mark says he wants a spin-off sitcom called "Oh Crowley." Sera says we'll see Crowley early on. There are big plans for him, which you'll see pretty early on.
11:42 - Talking about meta and "The French Mistake." Ben Edlund says he's not sure what they could do to take that further. "We're gonna have to work on that. That's a good, hard nut to crack."
11:44 - Jared talking about Sam's hard times and what's to come for him. Talk of things that can scare the Winchester boys. Jensen talking about Dean saying goodbye to Lisa and coming to the realization that "That's never going to be his life." "He's a hunter and will always be a hunter." Jensen says that was a must and it was a tough scene to shoot. A sad goodbye, but now there's a bigger problem on their hands.
11:46 - Sera says Chuck does not appear in the early part of the season. Storyline of Castiel looking for god. The writers asked themselves what would he do as god, getting to be his dad and what he would do differently. 11:47 - Misha talking about preparing to play god. He says he's very method, so he's been "smiting far more than usual. Serious answer: It's a daunting challenge. He got kind of nervous about it.
11:49 - Talking about all of the characters' death scenes. The writers call actors to give them a heads-up about what their death scene means (death scenes don't mean the same thing for Supernatural as they do in other shows.
11:52 - Jared talking about working with actors and how he gets more out of acting when he's working with someone he knows well. "My character grows when I have these intense scenes with Jensen."
11:54 - Sera says Jo is coming back. This is news to the cast. She says its a perfect example of someone who dies on the show that comes back. Sheriff Mills is returning. Death will be back. There are a few more in the works but she doesn't want to talk about that until the deals close.
11:56 - Fan questions. A hearing impaired fan is asking about sign language being used as a component in an episode. Writers say that's a good idea. They're talking about saying a lot without using words. Jensen says you could probably cut together an entire episode of just Sam looking at Dean.
11:59 - Jensen says he and Dean like the same kind of music. Next question is about Misha playing the anti-christ. Misha's joking about being a satanist. Talking about some church group that says he's the anti-christ. Misha jokes that he just has to embrace it now. Serious answer is "That's kind of ironic." You'll understand why during the season premiere.
12:03 - Jensen says he thinks it was cool that Eric Kripke stuck to his plan of only writing for five years. Sera says she hopes the show goes on for a long time. "Eric did create kind of a perfect franchise to keep going," she said. "We have a plan in place if this is the last year, and we have a plan in place if it isn't.
12:04 - Last question is for Ben. They want to know why they aren't using the ninja stars. Sera said Ben just pitched a ninja story. So maybe the ninja stars will be used. Ben jokes that if they use the grenade launcher, things would end about two acts early. Ben telling Jensen and Jared that they might want to start practicing using the ninja stars, because apparently they fly all over the place.
We're about to watch a video for the anime series, so they're talking a little bit about that before they start the footage. If you're interested in that, you can read my comments on the first couple of episodes, which were shown during preview night here at Comic-Con. You'll find that here.
Image 1 of 7
Image 2 of 7
Image 3 of 7
Image 4 of 7
Image 5 of 7
Image 6 of 7
Image 7 of 7
Kelly joined CinemaBlend as a freelance TV news writer in 2006 and went on to serve as the site's TV Editor before moving over to other roles on the site. At present, she's an Assistant Managing Editor who spends much of her time brainstorming and editing feature content on the site.
Your Daily Blend of Entertainment News
Thank you for signing up to CinemaBlend. You will receive a verification email shortly.
There was a problem. Please refresh the page and try again.