Community, Breaking Bad, Under The Dome, Doctor Who And More Set For Comic-Con Sunday Line-Up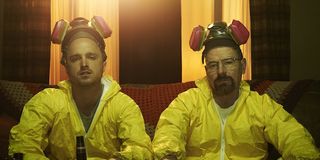 Excluding preview night, Sunday may very well be the easiest day at Comic-Con, for those who are willing to stick around for the remaining panels. While there are fewer events scheduled that day, there's still plenty to see and do. Sunday's become a big day for TV panels, most of which typically set up shop in Hall H. This year's Hall H Sunday (July 21) line-up includes Supernatural, Doctor Who, Community, Sons of Anarchy, It's Always Sunny in Philadelphia and Breaking Bad. Elsewhere at the convention, Under the Dome's panel will take place, and those looking to celebrate Buffy the Vampire Slayer and Firefly might want to catch the Browncoats meet-up and the "Once More With Feeling" screening.
Below is the list of mainly-TV related panels set up for Sunday at Comic Con in San Diego later this month. I also included information on the Neil Gaiman panel and the Harry Potter panel, because both are awesome.
10:00AM – 11:00AM - Supernatural Special Video Presentation and Q&A Hall H
Series stars Jared Padalecki (Friday the 13th [2009]), Jensen Ackles (My Bloody Valentine 3D), Misha Collins (Ringer), and Mark A. Sheppard (Battlestar Galactica), along with executive producer Jeremy Carver (U.S. version of Being Human) return to Hall H to answer questions from the audience about what's in store for the ninth season of this exciting series. Fans will also be treated to an exclusive video presentation featuring series highlights, as well as a portion of the special features from the upcoming Supernatural: The Complete Eighth Season DVD and Blu-ray release, in stores September 10. The ninth season of Supernatural will premiere this fall in its new Tuesday nighttime period at 9/8c on The CW. The series is produced by Wonderland Sound and Vision in association with Warner Bros. Television.
1:15AM – 12:15PM - Breaking Bad Hall H
AMC's Breaking Bad creator and executive producer Vince Gilligan appears with the cast of Breaking Bad, including Bryan Cranston, Aaron Paul, Anna Gunn, Dean Norris, Betsy Brandt, R. J. Mitte, and Bob Odenkirk. In a panel moderated by Chris Hardwick, Vince and the cast talk about what it was like to shoot the final episodes of one of the boldest and most intense dramas on television and how they are preparing for the series' final moments. Join the panelists for a one-on-one Q&A session and an official sneak preview of the final eight episodes of Breaking Bad season 5, premiering Sunday night, August 11 at 9:00.
2:00PM – 1:00PM - Browncoats Meet-up Room 29A
Stop by the meeting room this year to hang out with Browncoats and hear some news from around the 'verse. Wear a cunning hat. Who knows what could happen? There's no better way to share your love for Firefly, and it's a lot more practical than starting a fight in an Alliance-friendly bar on U-day.
2:30PM – 1:30PM - BBC America's Doctor Who 50th Anniversary Hall H
BBC America presents the Doctor Who 50th Anniversary panel featuring Doctor Who stars Matt Smith and Jenna Coleman, award-winning lead writer and executive producer Steven Moffat, An Adventure in Space and Time star David Bradley, and award-winning writer/executive producer Mark Gatiss. The Doctor Who 50th Anniversary Special will premiere November 23, on BBC America. As part of the celebrations in November, An Adventure in Space and Time will tell the story of the genesis of Doctor Who, with David Bradley starring as the first ever Doctor, William Hartnell.
1:00PM – 2:00PM - SpongeCon 2013: The Year of the Fan Room 6A
Tom Kenny (voice of SpongeBob) hosts an interactive live SpongeBob event! Croon along with some of your favorite tunes from Bikini Bottom. Screen finalists from the SpongeBob SquareShorts fan film competition. Enjoy an exclusive sneak peek of the new half-hour special SpongeBob, You're Fired! Plus a whole lot more. So get your goggles and dive on down. We want to have the Best Day Ever with you!
1:50PM – 2:45PM - Community: Celebrating the Fans Hall H
Community is back at Comic-Con, and the show is making its Hall H debut to celebrate the devoted Community fandom! Currently confirmed are cast members Gillian Jacobs, Danny Pudi, Yvette Nicole Brown, Alison Brie, Jim Rash, and Ken Jeong, plus executive producers Dan Harmon and Chris McKenna and co-executive producer Andy Bobrow, moderated by Chris Hardwick (The Nerdist). Be a part of the study group for a panel and Q&A, and you'll find out firsthand what surprises are in store for the Sony Pictures Television's comedy series when it returns to NBC for its fifth season. Community launches in broadcast syndication and on Comedy Central this September.
2:15PM – 3:15PM - Under the Dome Room 6BCF
Stars Dean Norris (Breaking Bad), Mike Vogel (Bates Motel), and Rachelle Lefevre (Twilight), along with executive producers Brian K. Vaughan (Lost), Neal Bear (Law and Order: SVU), and Jack Bender (Lost), invite you to go under the dome as they discuss the television event of the summer about a small town inexplicably sealed off from the rest of the world by an invisible and indestructible dome. Based on Stephen King's bestselling novel, the series follows "Big Jim" (Norris), the only elected official left under the dome whose abiding love for the town may be surpassed only by his desire for power; Dale "Barbie" Barbara (Vogel), an army veteran with a mysterious past; and "Julia Shumway" (Lefevre), the editor of the local newspaper who is coping with the disappearance of her husband, among other residents who are all struggling to uncover the mystery of the dome that has descended upon their town. They must come together to find ways to survive and work to ultimately rebuild their democracy from the ground up, while facing postapocalyptic situations. Follow them on this journey under the dome, where no one can hide and no one's secret is safe.
3:00PM – 3:50PM - It's Always Sunny in Philadelphia: Screening and Q&A Hall H
The Gang returns to Paddy's Pub with Mac (Rob McElhenney), Dennis (Glenn Howerton), Charlie (Charlie Day), Dee (Kaitlin Olson), and Frank (Danny DeVito). It's Always Sunny in Philadelphia was created by McElhenney and is executive produced by McElhenney, Day, Howerton, Michael Rotenberg, Nick Frenkel, Tom Lofaro, Rob Rosell, Scott Marder, and David Hornsby. The show is produced by FX Productions.
3:30PM – 4:30PM - Buffy the Musical Once More with Feeling Room 6BCF
Let's end this show with a bang! The powers that be behind Whedonopolis and Fandom Charities present a screening of the Buffy the Vampire Slayer musical episode Once More with Feeling as Comic-Con's big closing event! Many say this is the finest, funniest, most ingenious episode ever to come out of the Buffyverse. But remember, the best part of the show is up to you! This episode was made for talkin' -- back, that is -- and singing and shouting and dancing in the aisles, with or without your dry cleaning! Audience participation: It isn't just for Rocky Horror and mob riots anymore.
3:50PM – 4:40PM - Sons of Anarchy Hall H
Get an inside look into the world of FX's highest-rated series ever, with creator Kurt Sutter (The Shield), executive producer/director Paris Barclay (NYPD Blue), and the full cast: Charlie Hunnam, Katey Sagal, Ron Perlman, Maggie Siff, Kim Coates, Mark Boone Junior, Tommy Flanagan, Theo Rossi, Dayton Callie, and Jimmy Smits.
3:00PM – 4:00PM - Spotlight on Neil Gaiman Room 6DE
Comic-Con special guest Neil Gaiman has crossed over into numerous media. From comics to novels, from kids' books to animation, from television to movies, Neil remains one of the most popular creators in the world. Visiting Comic-Con this year to celebrate the 25th anniversary of his seminal comics creation The Sandman, he'll talk about everything that's going on his career right now.
4:15PM – 5:00PM - Harry Potter: Still Magic! Room 6DE
The Harry Potter book and movie canons are closed (though Pottermore and Universal's Wizarding Worlds are open). Sixteen years after we first went to Hogwarts, fans are still discussing, creating and gathering online and in person to share their love for J. K. Rowling's stories, and for the fandom! Look back, ahead, and into the Mirror of Erised with forever HP fans, including moderator Heidi Tandy (FictionAlley.org), Joey Richter and Brian Rosenthal (Team StarKid/A Very Potter Senior Year), Mark Oshiro (MarkDoesStuff.com), Harrison Homel (International Quidditch Association), Leslie Combemale (ArtInsights), Alex Carpenter (The Remus Lupins), and Lauren Bird (HP Alliance).
Here are the TV/Movie line-ups for Thursday, Friday and Saturday. View all of our SDCC TV coverage here. And you can view the full schedule over at the Comic Con website.
Your Daily Blend of Entertainment News
Thank you for signing up to CinemaBlend. You will receive a verification email shortly.
There was a problem. Please refresh the page and try again.