Community's Dan Harmon Speaks Out, Says He Will No Longer Have Any Power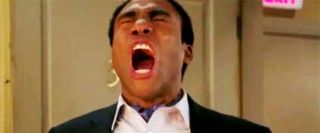 Fans of the NBC comedy Community received some devastating news today. As reported a few hours ago, Dan Harmon, the show's creator, has been replaced as showrunner by Just Shoot Me creators Moses Port and David Guarascio. The initial report said that Harmon would serve as a "consulting producer" on the fourth season of the series, but that it would also be attempting to broaden its appeal in hopes of attracting higher ratings.
The truth, however, is actually much, much worse.
Harmon has taken to his personal Tumblr account to let fans know what is really going on and it turns out that the initial report was a sugar-coated version of what is really going on. For starters, Harmon will no longer have any real connection to the show. He is technically still a credited member of the staff, as he has a protective clause in his contract that comes from the fact that he created Community, but he now has zero power.
"Nobody would have to do anything I said, ever," Harmon wrote. "I would be 'offering' thoughts on other people's scripts, not allowed to rewrite them, not allowed to ask anyone else to rewrite them, not allowed to say whether a single joke was funny or go near the edit bay, etc. It's….not really the way the previous episodes got done… I'm not saying you can't make a good version of Community without me, but I am definitely saying that you can't make my version of it unless I have the option of saying 'it has to be like this or I quit' roughly 8 times a day."
It should also be noted that this situation isn't a result of long talks between the studio and Harmon because the showrunner hasn't actually spoken to anyone at Sony. In his post he says that he hasn't spoken with anyone over there since the show was renewed for an abbreviated fourth season last week. Harmon says that he only learned about the news of his firing when he turned on his phone after a flight to Los Angeles. He doesn't mention if he was contacted directly or if he heard the story the same way all the rest of us did.
The point is this: season four will likely be much different than the show we've loved to watch over the last three years. Dan Harmon is one of the most passionate people in television today – he actually found himself crying after a note session with NBC about the Dungeons and Dragons episode from season two – and today that passion was forcibly removed from Community. The series that has always celebrated its own weirdness will now be aiming for something more mainstream and digestible to the average television audience. Personally, I would have preferred cancellation.
This is the worst thing that could have possibly happened. This is the darkest timeline.
Assistant Managing Editor
NJ native who calls LA home and lives in a Dreamatorium. A decade-plus CinemaBlend veteran who is endlessly enthusiastic about the career he's dreamt of since seventh grade.
Your Daily Blend of Entertainment News
Thank you for signing up to CinemaBlend. You will receive a verification email shortly.
There was a problem. Please refresh the page and try again.