Courteney Cox And Matthew Perry To Reunite On Go On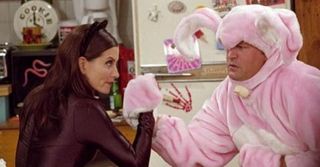 Matthew Perry is going have a visit from an old Friends cast mate in an upcoming episode of Go On, and the role should feel more than a little familiar. Courteney Cox is expected to guest star on Perry's new comedy; that's right, The Bings will be on screen together once again.
Cox is currently starring in the fourth season of Cougar Town after the show's move to TBS from ABC, and will be the first of Matthew Perry's Friends colleagues to make an appearance on his freshman series. Friends reunions have happened in the past; both Lisa Kudrow and Jennifer Aniston have appeared on Cougar Town, and Aniston also popped up on Cox's previous series, Dirt. Meanwhile, both Cox and Aniston have also appeared on Kudrow's show Web Therapy, which has seen David Schwimmer pop by as well. So it was really only a matter of time before someone from Friends showed up on Go On, and Perry's former on-screen wife seems to be a good choice. It marks the first time the two have shared the screen since Friends wrapped.
THR says Cox will be appearing as a potential love interest for Perry, which seems to make some sense since the two have played out a romance before. She'll be brought to his attention by Anne (Julie White) who is looking to set the two up. The reunion of The Bings is set to happen sometime in April.
Go On airs Tuesdays at 9 p.m. on NBC.
Your Daily Blend of Entertainment News
Thank you for signing up to CinemaBlend. You will receive a verification email shortly.
There was a problem. Please refresh the page and try again.