The Crazy Way Jane Krakowski Filmed Her First Unbreakable Kimmy Schmidt Scenes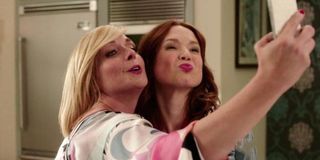 The latest Netflix original Unbreakable Kimmy Schmidt has officially arrived to the subscription streaming service today. Despite having an all-star team on board, including Tina Fey, Ellie Kemper and Jane Krakowski, the show almost didn't come together. NBC passed on the show and Netflix subsequently picked it up,and once that happened, things were a little hectic. In fact, in a recent interview, Krakowski discussed the insanely crazy way she filmed her very first scenes for the series.
With the Netflix pick-up in mind, it's no surprise Krakowski told THR that the show had a hectic production schedule. Hearing the way Krakowski filmed her very first moments in the newly-released series has only reinforced that notion.
Why were things done in such a shotgun fashion? As it turns out, the comedienne joined the Kemper-led series at the absolute last minute. Ironically, she had just been told her previous project Dead Boss wasn't being picked up an hour before she got a phone call from Fey asking her to come on board the Netflix series. From there, things moved at a rapid pace. Krakowski was fitted that Friday and filmed the following Saturday, and as she noted, the show's team inserted her scenes later.
It sounds like Krakowski, who apparently didn't know much at all about this project prior to joining, had to put a lot of faith in her former co-star Fey. Word is that Fey wrote the part of Jacqueline Voorhes, described as wealthy, complicated, screwed up and on-edge, with Krakowski in mind, although Megan Dobbs initially filmed the role in the pilot. It is reminiscent to the qualities making up her hilarious 30 Rock character Jenna Maroney, which makes me think her coming aboard Unbreakable Kimmy Schmidt is not only great for Krakowski but also for Fey's new series. Thank God for close friends, right?
The comedy was created by Tina Fey and Robert Carlock and stars Ellie Kemper (The Office), Tituss Burgess (30 Rock), Sara Chase (Arrested Development) and Jane Krakowski. Unbreakable Kimmy Schmidt follows the title character (Kemper) as she escapes a doomsday cult and moves to New York City, finding work as a nanny for Voorhees (Krakowski), while she begins her new life. Binge Season 1 of the series on Netflix now.
Your Daily Blend of Entertainment News
Thank you for signing up to CinemaBlend. You will receive a verification email shortly.
There was a problem. Please refresh the page and try again.