Darabont Comments On Potential Walking Dead Budget Cuts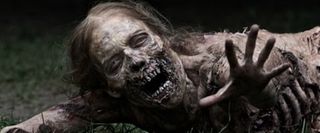 Fans of AMC's The Walking Dead may be troubled to learn there's a chance the budget for the show could be cut going into season 2. The ramification of such a move by the cable network was addressed by executive producer Frank Darabont, which you can see in the video below. To be clear, no such cuts have been made yet. But television is a business, and despite us fans wanting the purity of our favorite creators' visions to be realized there has to be compromise.
There's shockingly little I can see in the way of cost saving opportunity from the design of the show. While the writing is fantastic, the acting generally good, and the pacing spot on, there's much to be desired from the effects. The gore feasts of innards the zombies munch on are blatantly fake. Try to remember a single time a geek actually ate any flesh or guts on the show. You can't. Explosions are straight out of MacGyver – I'm looking at you CDC building. If anything, I think The Walking Dead needs a budget increase.
When it gets down to it the truth is budget matters little if the series can maintain creativity. Which is exactly what Darabont fears will falter with less money to go around. The Hollywood Reporter, in their annual Emmy showrunner roundtable, spoke with a palpable mix of cable TV's biggest creators to discuss everything creative, including network involvement and budget issues.
Again, before everyone starts panicking, there is no budget cut for The Walking Dead. Honestly, this is a look behind the scenes at what a showrunner has to deal with in order to create the show they want to. This is an issue that every show, even the most successful, has to deal with each year.
Staff Writer at CinemaBlend.
Your Daily Blend of Entertainment News
Thank you for signing up to CinemaBlend. You will receive a verification email shortly.
There was a problem. Please refresh the page and try again.