The New Daredevil TV Spot Shows Matt Murdock Kick Serious Ass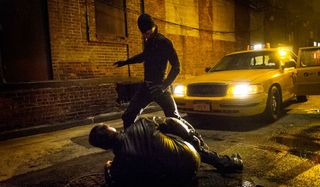 The Netflix/Marvel original series Daredevil arrives in April, promising 13-hour long episodes of dark tones and brooding characters. In the new TV Spot, the upcoming action show promises a heavily trained Matt Murdock (Charlie Cox) doing what he does best, fighting crime and taking down anybody who attempts to stand in his way.
In the above short clip, courtesy of iSpot, we're given a bit of Daredevil's history as we see a young Matt Murdock (Skylar Gaertner) talking to his martial arts master Stick (Scott Glenn), who asks how old he was when he became blind. It isn't long, though, before we get down to what the show promises a heavy dose of—fighting, fighting and more fighting. We see Karen Page (Deborah Ann Woll) as she expresses gratitude for the masked man who saved her life and of course we get another tiny taste of crime syndicate supervillain Wilson Fisk aka Kingpin (Vincent D'Onofrio), taunting the masked vigilante with his soft-spoken yet menacing manner of speech. We're then graced with more fierce punches, flying kicks and skilled beatdowns by the Hell's Kitchen crimefighter.
There may not be a lot to go on from this latest spot, but this is nothing new. We learned a couple weeks back that Netflix fully intends on keeping fans and potential viewers of their upcoming sci-fi crime series in the dark so as to keep from spoiling much of what the show has in store. D'Onofrio recently explained that while the trailers and clips have given fans an idea of what to expect in Daredevil, there is "so much they're not giving away." He went on to promise lots of intensity and a strong emotional core while praising exec producers Steven S. Deknight and Jeph Loeb.
While the few trailers and spots have promised plenty of fight sequences, we haven't seen much revealed on Murdock's origins, his training with Stick and how they come to be involved with Kingpin. We learned last week that Daredevil is going to be jam-packed with stunts, thanks to a recent interview with the above-mentioned Scott Glenn. The actor went so far as to call the show "the most stunt-heavy TV series ever shot," (a pretty impressive claim) elaborating that his character of Stick is on the "high-volume side of that." The Training Day actor promised Hong Kong Bruce Lee level stunt work—something he only could achieve thanks to his knowledge of martial arts and Jiu Jitsu. While Glenn isn't seen working any of this in the above clip, the character of Murdock certainly backs up some of these claims.
With over 13 hours of series to be seen in total, and only a handful of minutes thus far released through trailers and clips, there is certainly a lot of binge-watching to be had once the series hits Netflix on April 10. That means we've only got about two weeks before the small-screen SVOD action begins!
Your Daily Blend of Entertainment News
Thank you for signing up to CinemaBlend. You will receive a verification email shortly.
There was a problem. Please refresh the page and try again.