New Daredevil Trailer Teases The Punisher's Entrance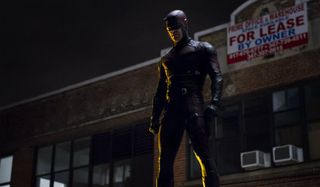 It's hard to believe that it's been almost a year since we first saw Matt Murdock (Charlie Cox) don his makeshift vigilante outfit and take to the streets of Hell's Kitchen to viciously do battle with the worst of New York. Daredevil's first season was an unequivocal success for Marvel and Netflix, but the upcoming second season will take the affair to a whole new level. Not only will we see a fully formed Daredevil taking on the scum of the criminal underworld, but we will also see him take on iconic Marvel anti-hero, The Punisher (Jon Bernthal). A new trailer for Daredevil Season 2 has just hit the web and teases the arrival of the violent vigilante, check it out below.
In the brief yet telling video, Matt Murdock stands on a rooftop in full hero garb while fireworks go off behind him. He appears to be patrolling during Chinese New year in New York, which makes a great deal of sense because Asian culture and villains have featured prominently in the series up until now. As he stands surveying the world around him, we hear a conversation with his friend Father Lantom (Peter McRobbie) during which the priest tells the vigilante that his work has not yet finished. Above Daredevil's head the sentence "the time has come to settle all debts" appears and the scene cuts to black; then all we as the audience here is the sound of a gun cocking, and The Punisher menacingly uttering a single word: "bang." The promo then comes to an end as the Daredevil logo fades onto the screen.
If that's not enough to get you all hot and bothered for the coming season of Daredevil then I honestly have no idea what is. Thus far Daredevil has done an impeccable job of not showing us too much of the coming season. The entire marketing campaign for Daredevil Season 2 has pretty much relied upon a minimalist approach – teasing elements for fans to be excited about, rather than showing anything in a substantial way. On a deeper level, it's intriguing because in a way it actually mirrors the way in which Matt Murdock views the world: don't show much, and rely on specific audio cues to relay important information. Although we have yet to actually see Jon Bernthal's take on Frank Castle, we as an audience have felt his presence through careful use of sound clips; it's as though we have begun to sense the impending battle in the exact same way as might would.
Needless to say we are beyond excited for the coming season of Daredevil. Considering Marvel's track record on Netflix, our hopes and expectations are sky high. The hit Marvel series will return to Netflix on March 18.
Originally from Connecticut, Conner grew up in San Diego and graduated from Chapman University in 2014. He now lives in Los Angeles working in and around the entertainment industry and can mostly be found binging horror movies and chugging coffee.
Your Daily Blend of Entertainment News
Thank you for signing up to CinemaBlend. You will receive a verification email shortly.
There was a problem. Please refresh the page and try again.