Days Of Our Lives' Hourglass Fills Up For Another Season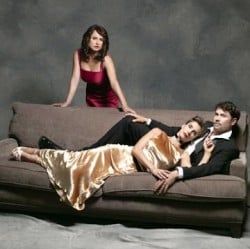 Soap fans can breathe a sigh of relief for one of its older series has been secured another year. After CBS dumped both Guiding Light and As the World Turns, suddenly the oldest surviving soap is General Hospital. Days of Our Lives has been elevated to second in America, and has been picked up by NBC to continue at least one more year, into its 45th season.
With only six daily soap operas remaining on the major networks, it's a scary time for soap fans. Ratings have continued to erode over the years, with many citing that most families now have both spouses in the workplace. While DVRs have made it easier for working women, their target audience, to record and watch the shows later, or even catch them in prime time on SoapNET, it's more a matter of less free time in their days to devote to a daily commitment to a television program.
Days of Our Lives, however, has actually shown increases in some key female demographics, as reported by Zap2It. And with the departures of two of CBS's daytime staples, there are more eyeballs perhaps available for those shows that remain. Perhaps the medium is just finding its new saturation point, and maybe six will be it for the time being.
There are also a slew of soap opera actors now out of work just begging to make an appearance. Maybe some of them can get in the way of Bo and Hope working out all their issues and finding their happily ever after. Who wants that anyway. This is a soap opera.
Your Daily Blend of Entertainment News
Your Daily Blend of Entertainment News
Thank you for signing up to CinemaBlend. You will receive a verification email shortly.
There was a problem. Please refresh the page and try again.