Desperate Housewives: 2009 Fall TV Preview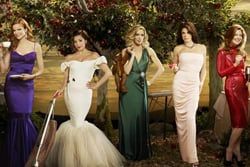 I love Desperate Housewives and while I'd normally be moderately excited about the premiere of another season of Wisteria Lane drama, I'm doubly excited this season due to the addition of Drea de Matteo to the cast. If you're a fan of the former Sopranos star ("Chris-ta-fa!"), you'll appreciate the video clip we have of de Matteo from the sixth season premiere of DH.
It wouldn't be Desperate Housewives if there weren't some new family moving into Mary Alice's old house, right? This time around it's the Bolen family, which includes Angie (Drea de Matteo), her husband Nick (Jeffrey Nordling) and their weird son Danny (Beau Mirchoff). Below is ABC's series and season description and further down are the promised video clips.
Desperate Housewives season 6 premieres Sunday, September 27 at 9:00 p.m., ET on ABC.
CLICK HERE to view the full 2009 fall TV premiere schedule.
Image 1 of 15
Image 2 of 15
Image 3 of 15
Image 4 of 15
Image 5 of 15
Image 6 of 15
Image 7 of 15
Image 8 of 15
Image 9 of 15
Image 10 of 15
Image 11 of 15
Image 12 of 15
Image 13 of 15
Image 14 of 15
Image 15 of 15
Your Daily Blend of Entertainment News
Thank you for signing up to CinemaBlend. You will receive a verification email shortly.
There was a problem. Please refresh the page and try again.