Drop Dead Diva Season 5 Premiere Date Set For June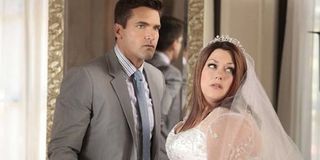 Drop Dead Diva lives! The formerly cancelled, then saved Lifetime drama series now has a premiere date for its fifth season. Those of us who are eager to see how things pick up for the series have only to wait until June 23 for the fifth season to make its debut.
Drop Dead Diva stars Brooke Elliott, Margaret Cho, April Bowlby and Jackson Hurst and centers on a sweet but vapid aspiring model named Deb, who dies and is reincarnated into the plus-size body of an attorney. The series has focused on Deb's attempt to adapt to Jane's life and career while thinking like her old self and remembering her old life as a thin, blonde beauty. Season 4 left off with an interesting twist - spoilers if you aren't caught up! - as we learned that the "real" Jane has been watching Deb hijack her life on earth and manages to get herself "returned" to earth where she takes over the body of Owen, a judge and the Jane's fiancé. Just moments prior, Owen dropped dead of a heart attack when witnessing Jane (the Deb version) kissing Grayson - her colleague at work, not to mention her (or Deb's) former fiancé - minutes before she was supposed to be walking down the aisle to marry Owen. The series ended with Jane waking up in Owen's body.
When Lifetime cancelled the series, fans were not only disappointed to see the show go but monumentally frustrated that Lifetime would pull the plug on the series after such a major cliffhanger. A couple of months later, the show got uncancelled. And today, Deadline reports that the show will return for Season 5 on Sunday, June 23 at 9:00 p.m. The title of the first episode? "Back From the Dead." A particularly fitting title on two fronts, if we consider the series' reprieve, not to mention Jane's return.
What's ahead for Deb-Jane and Grayson? And how will Owen-Jane fit into the picture? We'll find out in just a couple of months!