Dwayne 'The Rock' Johnson And Jerry Bruckheimer Bring The Golden Age Of Wrestling To NBC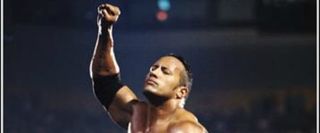 Yes! In the peacock corner we have a new period drama, produced by Jerry Bruckheimer and Dwayne Johnson, set in the world of 1980s professional wrestling. That's right, we're not only getting the cheesiest period recreated for us on the small screen but we're also getting the cheesiest, soapiest sport as the show's showcase! I honestly don't think I could be more excited, I'm tearing my shirt open Hulkamania style right now... but the material so strong. Dammit! Fine, I'll just be excited and wearing a shirt.
Sure, wrestling today is an even bigger farce but regardless of what you and I think of the current period, it is still immensely popular and in no way tarnishes my childhood memories. And it is from those memorable years that this new series is being drawn. As Deadline (opens in new tab) reports, "NBC is getting in the ring with a put pilot commitment to a drama about the 1980s professional wrestling boom, which is executive produced by one of the biggest 1990s wrestling stars, Dwayne Johnson, aka The Rock."
The pilot will be written by Seamus Kevin Fahey and Brent Fletcher and will focus on what is widely considered the golden age of professional wrestling. It was during the early 80s that the sport experienced crazy growth and popularity, while seeing the rise of the most iconic figures like Hulk Hogan, Macho Man Randy Savage and The Ultimate Warrior. Johnson will executive produce alongside Bruckheimer and Kristie Ann Reed and, as Deadline notes, the show will be "marking a departure from the company's signature brand of procedurals." So, with no more cities to set CSI in, BruckheimerTV finally shakes things up. Let's see how this one fares, let's hope it doesn't get pinned early.
Your Daily Blend of Entertainment News
Thank you for signing up to CinemaBlend. You will receive a verification email shortly.
There was a problem. Please refresh the page and try again.