ER's Goran Visnjic Joins ABC's New Drama Red Widow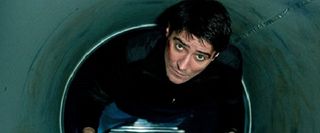 An ER star has taken a role in a new drama on ABC. Goran Visnjic, who spent nine years on the hit medical drama, has signed on for a role in the series Red Widow, replacing Thomas Kretschmann who took the role in the pilot as a guest spot.
Red Widow is about the widow of a gangster (no, not a Communist as the title might imply) whose brutal murder leaves her the task of facing down both the FBI and rival gangs in order to find the truth about his death. The widow herself, Marta Walraven, is played by Radha Mitchell. Visnjic will step into the role of Mafia boss Schiller. Red Widow is based on a successful Dutch format and comes from Twilight screenwriter Melissa Rosenberg, according to Deadline. Hopefully it won't have quite the same level of teen angst melodrama as Twilight - although one can hardly blame Rosenberg for that since she had to work off of one seriously melodramatic novel.
Visnjic spent nine years playing Dr. Luka Kovac on ER and has since taken on guest roles on Leverage and Pan Am. He has also moved on to a feature film role in the upcoming Ridley Scott film The Counselor. If Red Widow is successful it will return him to a regular series role in a TV drama, which seems to be his comfort zone. The series is set to premiere midseason, so there's plenty of time for him to settle in before it hits the air.
Your Daily Blend of Entertainment News