Elliott Gould And Jon Voight Join Showtime's Ray Donovan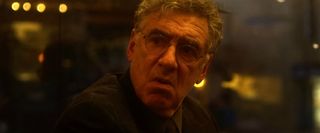 There is an ever increasing trend that has seen several Hollywood veterans flock to premium television. From Dustin Hoffman and Nick Nolte trying their Luck to Chris Cooper and Dianne Wiest boarding The Corrections (both at superstar network HBO), stars in the twilight of their careers are finding juicy parts on the small screen. Now, two more legends, Jon Voight and Elliott Gould, are also making the transition off the big-screen to join Ray Donovan at Showtime.
The Wrap reports that the Oscar winner and nominee (Voight won for his fearless performance in Coming Home while Gould was nominated for his work in Bob & Carol & Ted & Alice) are joining Liev Schreiber in the Showtime pilot Ray Donovan, or what seems like a TV adaptation of Michael Clayton. Sorry, not to sound like a jerk but after reading the synopsis (coupled with that oddly similar title), I can't help but make a comparison. Showtime's Ray Donovan is about a 'fixer' or 'troubleshooter' who cleans up messes for an L.A. law firm. See, Michael Clayton.
Voight has been brought in to play Scheiber's father Mickey Donovan, an ex-con who makes the trip out to Los Angeles to reconnect with his family among some other shady dealings. Gould will play Ezra Goodman (the Tom Wilkinson role), Ray's mentor suffering from dementia who is also a senior partner at a law firm. Even though this sounds like an 'homage' (rip-off of) to Terry George's Academy Award nominated film, it still has such a stellar ensemble shaping up that it will be hard not to tune in - especially since Ann Biderman, the mind behind the woefully underrated Southland, is the creator and executive producer. Well, they say if you're going to steal, steal from the best... And besides "the truth can be adjusted."
Your Daily Blend of Entertainment News
Your Daily Blend of Entertainment News
Thank you for signing up to CinemaBlend. You will receive a verification email shortly.
There was a problem. Please refresh the page and try again.