Why Sunday Funday Will Probably Be Animation Domination Again By Next Year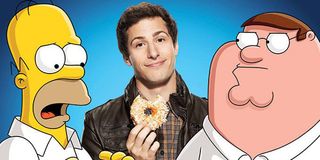 I hope I'm wrong. I know that's an odd way to start an argument but it's genuinely how I feel about this pessimistic, yet no less valid opinion. The opinion in question? That Fox's 'Sunday Funday,' the replacement for the (decade old) 'Animation Domination' block, is destined to fail. And it's not just because of the lazy title for the new Sunday night schedule that includes Bob's Burgers, The Simpsons, Brooklyn Nine-Nine, Family Guy and Mulaney, it's that I don't see the last series in the line-up succeeding. If that is the case and, based purely on the promotional material and early buzz, it seems likely, then the network probably won't leave Brooklyn Nine-Nine as the only live-action show in the block. I predict the return of 'Animation Domination' before the new year.
So, back to my initial sentiment, why do I hope that I'm wrong? Well, cause I'm a huge fan of John Mulaney as a comedian and want nothing more for his series to be the next Seinfeld (in ratings, not just in format). Similar to Seinfeld, the sitcom follows an up-and-coming stand-up named John Mulaney. Between the storylines influenced by his comedy material, we actually get to see him performing his act at a club. The story sequences with his wacky friends and/or neighbors (Nasim Pedrad, Seaton Smith, Zack Pearlman) also primarily take place in his apartment. Add the multi-cam set-up and canned laughter and you've got yourself a pretty obvious homage. See for yourself...
I suppose this kind of throwback could work, especially when the jokes and scenarios are being lifted from Mulaney's specials (New In Town is on Netflix), but it does seem a little too old-fashioned. That's probably the point (it's certainly the driving stylistic idea behind the sitcom), but it still doesn't mean it's going to work. And here's where I once again proclaim how I want to be wrong. I want this to work. Hell, Big Bang Theory is a hit and still uses the veteran format, although I do hope Fox's comedy is not as safe and, well, intolerable.
So why should 'Sunday Funday' as a whole depend so much on the success of only one of five shows in the lineup? Cause once (I should say, if) Mulaney is out of the picture, the slot will surely tighten to two-hours, one that looks incredibly similar to last year's 'Animation Domination.' Brooklyn Nine-Nine would be the only addition to the previous line-up, as well as the only live-action comedy on the block. The Golden Globe-winning comedy is rather cartoonish and could still fit in on Sundays, especially if The Simpsons proves to be a solid lead-in for the critically-acclaimed sophomore series that struggled for ratings. However, I predict a shuffle that has it back on Tuesday nights with New Girl and The Mindy Project. As for Utopia? That dumb show can work anywhere.
This begs the question: Is it really the end of an era or just a blip in the 'Animation Domination' timeline? It may be wishful thinking, but to fill the two-hour block, Fox could always bring back Futurama. What do you think? Let us know in the comments, below.
'Sunday Funday' officially kicks off next Sunday, October 5 at 7:30 p.m. ET on FOX. The all-new comedy block includes Bob's Burgers, The Simpsons, Brooklyn Nine-Nine, Family Guy and Mulaney.
Your Daily Blend of Entertainment News