A Fan-Favorite Character Just Made A Big Entrance On Outlander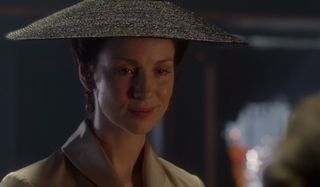 There are spoilers in this article if you haven't caught tonight's episode of Outlander, titled "Not in Scotland" anymore. If you haven't seen the episode, feel free to check out one of our other lovely articles.
There's a lot we can look forward to coming up in the second season of Starz's Outlander. Espionage and intrigue in France with Claire and Jamie, beautiful period costumes and the introduction of fan-favorite book characters Brianna and Roger are looming on the horizon. While we wait for a lot of these moments, Episode 2 actually introduced us to another fan-favorite character: the mysterious Master Raymond, played by Dominique Piñon. Take a look:
Fans of Diana Gabaldon's novels should be excited to catch the new character so early in Season 2, before we even meet many of the French characters who will become prominent in the new season. Claire Frasier decides to visit Master Raymond after Jamie has some startlingly bad dreams thanks to the pain he endured at the hands of Black Jack Randall. Master Raymond's shop has all kinds of oddities, many of them farces, but he correctly identifies Claire as a friend after they agree upon a common enemy. Plus, she's brazen enough to call bullshit on some crocodile blood.
A lot of times when television shows describe a character that is mysterious, that character will only be mysterious for a few episodes before a series reveals their actual intentions. Master Raymond is a lot more slippery. From his first introduction in the series, we know that he's a bit of a charlatan, selling fake crocodile potions to the ladies of the court. He also clearly has an extensive knowledge of herbs, as he does manage to put together a concoction to help Jamie with his nightmares. He should be in good company with Claire in the episodes moving forward. We can't wait to see what shenanigans the character gets into.
Book spoilers in this paragraph. Master Raymond is an odd character, but later in the show it is likely we will learn more about his past and the fact that he is a time traveler in his own right. The Outlander novels and Diana Gabaldon have explained that Raymond is probably from an early era in human history and has an aversion to Vikings—which is part of the reason he dislikes the hulking Jamie. He's living in France in the 1700s, but that doesn't seem to be his first time traveling stop.
Starz hasn't made an official decision about Outlander Season 3 yet, but so far Season 2 is off to a good start in the ratings. For now, you can catch new episodes of Outlander when they air on Starz (opens in new tab) on Saturday nights at 9 p.m. ET.
Reality TV fan with a pinch of Disney fairy dust thrown in. Theme park junkie. If you've created a rom-com I've probably watched it.
Your Daily Blend of Entertainment News
Thank you for signing up to CinemaBlend. You will receive a verification email shortly.
There was a problem. Please refresh the page and try again.