The Flash Is About To Make A Major Change To A Key Character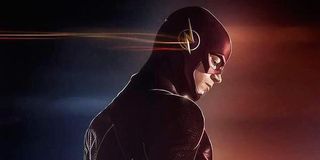 There are some spoilers for upcoming episodes of The Flash ahead! Now's a great time to turn back if you want to remain surprised. Everyone still here? Alright, let's go.
To many TV viewers watching The Flash, Eddie Thawne has been an all-around good guy during Season 1, serving as Joe West's partner and Iris West's boyfriend. Among hardcore comic book fans, however, there has been speculation about whether Eddie will eventually go down the same path as his comic book namesake Eobard Thawne, better known as the supervillain Professor Zoom. Aside from his brief stint trying to capture Flash last winter, Eddie has been an ally to the Scarlet Speedster, but new footage released shows that the handsome detective will be going down a dark path quite soon.
Before The Flash's panel began yesterday at Paley Fest, a trailer was shown for upcoming episodes, and one of the scenes showed Eddie approaching two cops and shooting them point-blank. Unless these are two corrupt officers that just set an orphanage on fire, this scene unsubtly shows that the nice guy we've gotten to know since October is about to undergo a major personality change. Actor Rick Cosnett was hesitant to comment on his character's upcoming arc during the panel aside from saying that things will "unravel" and fans will be surprised what happens to him. Yeah, I'd say killing two cops seemingly in cold blood is awfully surprising.
EW speculates that this abrupt shift could be the result of tinkering around with time travel, which lines up with what executive producer Andrew Kreisberg said about episodes coming up.
If Barry is successful traveling back to the past, perhaps he accidentally alters something that changes Eddie's personality in the present. There is also a scene in the trailer where Barry confronts his feelings for Iris, which soon after results in Eddie punching him in the face. Could a scorned heart be another reason he turns to the dark side?
It was only natural for comic book fans suspect Eddie turning into a villain when he shares the same last name as one of Barry Allen's greatest nemeses in the comics. In "The Man in the Yellow Suit," it was revealed that Harrison Wells was indeed the Reverse-Flash. However, it's not uncommon in the Flash mythos to have more than one person take on a specific identity. The PaleyFest clip doesn't confirm that Eddie will become another Reverse-Flash, but it doesn't hurt the theory, either. Let's not forget how the yellow-clad speedster stared at Eddie for a few seconds in the midseason finale. Also, remember that the blood sample Cisco and Joe found at Barry's old house didn't match Wells'. So while Wells may be the Reverse-Flash that Barry fought in December, Eddie might have been the Reverse-Flash that killed Barry's mother…or will kill her. Time travel is complicated.
The Flash returns with new episodes this Tuesday at 8/7c on The CW.
Connoisseur of Marvel, DC, Star Wars, John Wick, MonsterVerse and Doctor Who lore. He's aware he looks like Harry Potter and Clark Kent.
Your Daily Blend of Entertainment News
Thank you for signing up to CinemaBlend. You will receive a verification email shortly.
There was a problem. Please refresh the page and try again.