Fox Animation Domination Sundays Is All Guest Stars This Season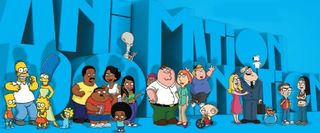 For those who have been watching The Simpsons for the last 20 years, you will be familiar with their practice of bringing in numerous high-profile guest voices throughout the season. It was charming at first, you know, when the show was still relevant and funny (so, about 10 years ago). The other Fox animated series quickly followed suit, Family Guy most noticeably, and now the Fox "Animation Domination" guest voice campaign continues and expands, with each of their major shows lining up both some big and small names.
Some of my favorite episodes of the early years of The Simpsons (I don't watch any post-season 10 eps) involved guest voices, including: James "Don't jerk around with me buddy" Woods in "Homer and Apu," Conan "Only I may dance" O'Brien in "Bart Gets Famous," and Albert "You're gonna die now" Brooks in "You Only Move Twice." The rest of the Fox animation schedule also has had some memorable guests, with the amazing James Woods showing up in Family Guy as well, and the network's upcoming season is packed with special guest stars.
According to THR (opens in new tab), these are some of the celebs slated to appear on the Fox animated shows. Starting with The Simpsons, who will get visits from Anthony Bourdain, Gordon Ramsay, Kiefer Sutherland, Michael Cera, Aron Ralston, Jeremy Irons, Armie Hamer, Jane Lynch, Andy Garcia, Joan Rivers, and artist Shepard Fairey. Personally, even though I haven't watched the show in years, I might have to tune in and catch the Michael Cera episode because, well, I'm a big fan and he seems like a great love interest for Lisa (at least the Lisa I remember).
The three Seth MacFarlane shows, Family Guy, American Dad, and The Cleveland Show, will all have several guests this year. FGis bringing in heavy hitters Ryan Reynolds, Ricky Gervais, Cate Blanchett, Anna Kendrick, and Ellen Page (that's three Academy Award nominees).
AD has Cee Lo Green, Patrick Stewart, David Boreanaz, Emily Deschanel, Sarah Michelle Gellar, Alyson Hannigan, Amy Sedaris, and Kathy Griffin providing their voices.
Finally, TCS is bringing Craig Robinson, Jamie Kennedy, John Slattery, Will Forte, Carl Reiner, Darren Criss, Fergie, will.i.am, Nikki Minaj, Bruno Mars, Kanye West, Florence Henderson, Phylicia Rashad, Joey Votto, Matt Kemp, Andre Ethier, David Ortiz, and Johnny Bench.
That's a lot of guest stars...You'll catch them throughout the Fox "Animation Domination" season starting September 25th on Sundays at 8 p.m.
Your Daily Blend of Entertainment News
Thank you for signing up to CinemaBlend. You will receive a verification email shortly.
There was a problem. Please refresh the page and try again.