Fox's Minority Report Trailer Is Imaginative And Futuristically Cool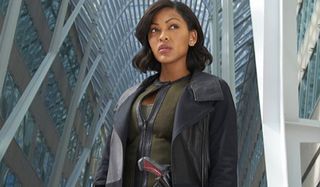 Fox's upcoming television adaptation of the Tom Cruise 2002 film vehicle, Minority Report has released its very first trailer showing a bright, futuristic aesthetic that we dare say is…almost human. Setting itself in the same world as the sci-fi hit (which itself was based on a Philip K. Dick story), the show explores the aftermath of the film's events, in which the crime-divining Precogs were freed from their involuntary civil servitude. However, it appears that for one of them, the visionary itch hasn't quite left.
The trailer reveal for Minority Report comes just a few days after it was announced that Fox has given the pilot a full series order. The show will carry the distinction of being the first television adaptation of a Steven Spielberg film and clearly shows an ambitious direction. In fact, it seems to have turned out well enough for Spielberg to jump on board the show as a producer. The series stars Meagan Good as police detective Lara Vega, who finds herself teamed up with Dash, one of the film's depicted Precog prognosticators played by Stark Sands. The show, for all its visual grandiosity, seems set on establishing a solid crime procedural routine.
Unlike other television adaptations of major movies, Minority Report looks to be setting itself up as a direct continuation of the film's storyline, rather than a reinterpretation. The show is set in 2065, which is about 10 years after the events in which Tom Cruise's Captain John Anderton evaded his framing for murder and exposed the conspiracy to cover the Precogs' fallibility. A decade later, criminal justice has apparently devolved back to being a cleanup operation.
However, the trio of Precog captives from the movie have resurfaced; notably, Dash, one of the young twin boys, who is now grown. Besides searching for his twin, Arthur (also played by Sands), Dash is unsuccessfully trying to use his visions to help murder victims. He teams up with Detective Lara Vega, and the duo try to utilize Dash's fragmented visions to prevent tragedies.
Besides the connection to the Tom Cruise film, one look at this series will immediately evoke the recent memory of Fox's canceled sci-fi futuristic crime procedural, Almost Human. There's the grand, futuristic setting, the buddy-cop dynamic on display between an unorthodox cop and an eccentric, super-powered asset, and even the presence of deeper philosophical quandaries; the comparison is hard not to make. Yet, unlike that prematurely unplugged series, Minority Report may enjoy the benefit of having its world essentially already established going in, set up with the 2002 film. While momentum gained from continuing the story of a 13-year-old movie is limited, the film did craft a solid mythology from which to draw ideas. A procedural series set in that world could yield intriguing possibilities.
The show certainly does look tremendous with several nods to the film. However, it will be interesting to see if the Fox network has learned anything from its experience with Almost Human, whose fate as a canceled series seemed to hinge not on its quality or audience reception, but on its production price tag and a ratings dip. Likewise, one would have to think that the network is banking on Minority Report being a runaway hit early on in its run this fall, lest it meet the same fate of being a highly-regarded series that found itself nevertheless nixed.
Also starring Li Jun Li, Wilmer Valderrama and Daniel London - who will reprise his role as Wally the Caretaker from the film - Minority Report is scheduled to air on Mondays this fall on Fox.
Your Daily Blend of Entertainment News
Thank you for signing up to CinemaBlend. You will receive a verification email shortly.
There was a problem. Please refresh the page and try again.