Friends' Maggie Wheeler Headed To Californication For Season 6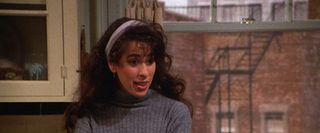 Oh. My. Gawd. Those of us who've seen enough episodes of Friends may associate those words and the name name Janice - at least somewhat - with a certain nasally laugh. This may or may not include the mental image of Chandler Bing shuddering uncomfortably. Maggie Wheeler has played other roles before and since she was Chandler's occasional girlfriend in the beloved NBC comedy series, but it's probably fair to say she's most associated as Janice.
Wheeler's recent credits include an episode of The Closer and Curb Your Enthusiasm, as well as a recurring voice-role as Trinette in FX's animated series Archer. According to TV Line, she's headed to Californication for the series' sixth season. She'll appear in "several episodes" of the series, playing "a male-hating self-help guru who becomes entangled with David Duchovny's Hank." I sort of love everything about that description, especially because it sounds like she could be a pretty humorous obstacle for Hank, who usually does well with the ladies. It should be great to see how the two interact together and how Wheeler's character fits into the overall story for Season 6, which is set to premiere on Showtime in 2013.
As TV Line notes, this won't be Wheeler's first run-in with Duchovny on the small screen. She appeared in the first season of the popular sci-fi drama The X-Files, in which Duchovny starred. Apparently, she also dated him him for a while. That may be the case, but she'll always be Chandler Bing's ex-girlfriend to me.
Your Daily Blend of Entertainment News
Thank you for signing up to CinemaBlend. You will receive a verification email shortly.
There was a problem. Please refresh the page and try again.