Fringe Renewed For Fifth And Final Season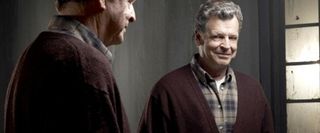 Fringe fans, you can stop holding your breath. The word has come down from on high (or as "on high" as it gets at Fox, anyway), and it is good: the Hollywood Reporter has broken the news that Fringe will indeed return for a fifth and final season.
The future of Fox's beleaguered mad-science drama has been in question for months, often seeming to shift back and forth between bleak and hopeful on a weekly basis. Supposedly the show's writers were preparing for either option, shooting two versions of the ending. Both would address most of the unanswered questions, but one version would also lay the groundwork for the fifth season. Thankfully, the more final of those two endings will now be relegated to a likely bonus feature for the inevitable DVD release.
Fox entertainment chief praised the series as "one of television's most imaginative dramas," and showrunners Jeff Pinkner and J.H. Wyman took the mandatory official-statement victory lap:
If there's any bad news to this announcement, it's that Fringe will be returning for an abbreviated season of 13 episodes. This will allow the show to hit 100 episodes, always a happy magical number when it comes to future syndication. It may not be a full season, but it will allow the show to have even more time to wrap things up, and that's a rare treat for genre fans who have all too often seen beloved shows cut short without any closure.
Only three episodes of Fringe remain in the current season, with the two-part finale set to air on May 4th and May 11th. Let's hope they stick the landing better than Lost did.
Your Daily Blend of Entertainment News
Your Daily Blend of Entertainment News
Thank you for signing up to CinemaBlend. You will receive a verification email shortly.
There was a problem. Please refresh the page and try again.