Full Daredevil Trailer: Netflix Series Ups The Intensity, Lets Us Meet New Characters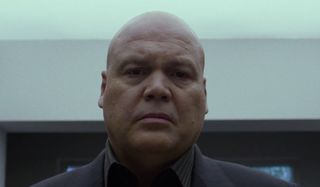 Netflix has been rolling out promotional material for Daredevil on the regular. So far, we've gotten images, short-ish trailer and everything in-between. Today, we got our best look at the upcoming show yet though in the form of this sweet two minute and eighteen second trailer…
Where previous Charlie Cox's Matt Murdock was front and center of Netflix promotional push, this new Daredevil trailer seems to be give the Kingpin his proper time in the spotlight. Vincent D'Onofrio of Law and Order: Criminal Intent fame plays Wilson Fisk before he became the infamous Marvel villain. As producer Jeff Loeb said of the series, it's "about both the rise of the hero and the rise of the villain." Showrunner Stephen DeKnight promises us we'll see his early beginnings as a criminal and husband to his future wife Vanessa, and it's clear from the new trailer that we'll be playing around with the differences between good and evil. As Murdock says, sometimes the line between them is "a sharp line" and other times "a blur."
Elsewhere, we get our best look yet at True Blood star Deborah Ann Wall as Murdock's love interest Karen Page. She's about had it with Hell's Kitchen and all its dark corners, and by the looks of things, she's at her breaking point. In the comics, Karen was hired as a secretary for Murdock's law firm. He and his best friend Foggy Nelson (played in the series by Elden Henson) both fell for her, causing a rift between the two. Though it's unclear if the Netflix series will follow this same trajectory, there's a moment in the footage that sees Foggy embracing Karen, seemingly teasing as much.
In the past, fans have made comparisons between Daredevil and Arrow. Though this Daredevil trailer doesn't sound like it's much different with all its talk of being "the man this city needs" and doing things "outside the law," but it certainly seems much darker than The CW's teenie bopper audience. Daredevil will debut all its episodes on Netflix on April 10, and soon we'll also see standalone series for Jessica Jones (Krysten Ritter), Luke Cage (Mike Colter) and Iron Fist (not yet cast) before their upcoming The Defenders miniseries event. Colter said recently that his series, much like Daredevil, will be grittier than we're expecting and pegged towards an older audience. This tone already sets these heroes apart from Agents of S.H.I.E.L.D., Agent Carter and the over-arching MCU. Though we'll find out for sure as the streaming service starts shelling out its Marvel offerings, can Marvel benefit from this Man of Steel approach?
Your Daily Blend of Entertainment News
Thank you for signing up to CinemaBlend. You will receive a verification email shortly.
There was a problem. Please refresh the page and try again.