G4TV Puts Ryan Dunn's Proving Ground Back On The Schedule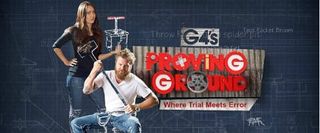 As we all know, Ryan Dunn, of Jackass fame, died last week in a fiery car crash. Everyone seems to have their own opinion on the tragedy (yes, I can say tragedy and still not condone the behavior that caused the reality star's untimely death) with constant comments, criticisms and condolences coming out of the woodwork. In the middle of the sensationalist storytelling, G4TV announced that Dunn's new show, Proving Ground, would be shelved indefinitely... And by indefinitely, they meant two weeks.
Dunn's death came just one week after the premiere of his new reality show which saw the 'stunt-man' recreate famous crazy video-game and movie stunts in real life to prove if they're possible... like Guinea Pig meets Mythbusters. Proven Ground was immediately yanked from the schedule (opens in new tab) after the fatal crash but G4 announced today that the show will be back in its original time slot - Tuesdays at 8 p.m. ET - starting July 19th, 2011.
G4 also announced that the return of Proving Ground will be preceded (July 19, 7 p.m. ET) by a special one hour tribute episode of Attack of the Show! which will feature Dunn's most memorable moments at the network as well as interviews from some of his friends. Dunn was my favorite member of the Jackass crew and I'm happy that his final show (and this tribute) will see the light of day. I won't pretend to know Dunn but he seems like the kind of guy that would want the show to air despite what happened (and the press release suggests that the show's return was at the behest of Dunn's family). Let's hope it serves as a fitting goodbye.
Your Daily Blend of Entertainment News
Thank you for signing up to CinemaBlend. You will receive a verification email shortly.
There was a problem. Please refresh the page and try again.