Game of Thrones Is Bringing Back One Of The Coolest Side Characters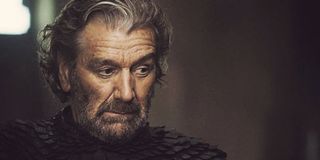 Game of Thrones isn't expected to premiere its sixth season until next spring. However, the show is currently in production and shooting scenes in wide-ranging locations with a wide variety of characters, some new and some familiar. This week we learned that a fan-favorite character is coming back for Season 6. He's none other than Catelyn's uncle, Brynden Tully.
The last time we checked in with Brynden was way back in Season 3 during the Red Wedding. While Catelyn, Robb and many others alliance with the family were brutally massacred, Brynden managed to escape, thanks to leaving the event to use the bathroom just before all of the crazy stuff went down. Now, Los Siete Reinos is stating that actor Clive Russell, who plays Brynden Tully on the show, has been spotted on the set of Game of Thrones in Northern Ireland. Even better, he was spotted in gear that indicated he is on the set playing Brynden, nicknamed "The Blackfish," which indicates he's not simply visiting old friends on set.
We're about to get into some book spoilers, so if you want to go into Season 6 with a fresh perspective, stop reading now. While Game of Thrones is mostly caught up with the books at this point, one of the plots the show has not visited from A Feast For Crows is the fact that The Blackfish continued to hold a fortress called Riverrun in Robb's name after his death. Reports have indicated that Jaime and the Blackfish have been seen having an argument and shooting scenes indicating that Riverrun will be coming into play.
Brynden Tully hasn't been a huge presence in the Game of Thrones universe thus far, but he is a well-liked character in both the books and TV series, mostly thanks to his general competence and badass-ness, but also his personality. In fact, he's a key component in my single favorite moment in Game of Thrones. Way back in the day, the Tully family was burying Hoster Tully and needed to light the funeral boat on fire with an arrow. After Edmure failed three times in a row, leading to plenty of whispers among the funeral-goers, an irritated Brynden just took the bow from him and completed the task in one fell swoop. As I said, he's pretty awesome.
Brynden Tully isn't the only character making a comeback during Season 6. In fact, after a one-season absence, Bran and Hodor are definitely returning to the series. Plus, the rumor mill has also reported that some long-gone characters like The Hound and even Ned Stark will also be returning, although the latter seems as if he will be played by a youngster and will only be returning in flashbacks. Regardless of what happens and who makes a return, we are very excited to see who comes back, especially since the show is moving further and further beyond the realm of the books.
Game of Thrones might not be returning for a while, but go ahead and take a look at what we know about Season 6. We know you're curious.
Reality TV fan with a pinch of Disney fairy dust thrown in. Theme park junkie. If you've created a rom-com I've probably watched it.
Your Daily Blend of Entertainment News
Thank you for signing up to CinemaBlend. You will receive a verification email shortly.
There was a problem. Please refresh the page and try again.