Game Of Thrones Casts Hafthor Julius Bjornsson As Gregor Clegane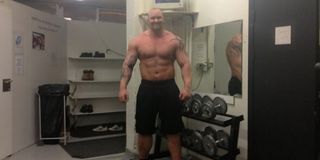 Game of Thrones is no stranger to recasting characters. HBO's hit fantasy drama is so chock full of different personalities that it makes sense schedules may not always work out, especially when considering characters who might pop up once or twice in one season and not appear again for several seasons thereafter. GOT character Gregor Clegane, for one, has been recast several times, popping up in Season 1 and Season 2 with different actors signed on to play him both times. For the character's Season 4 appearance, a brand new actor, Hafthor Julius Bjornsson, has joined the Game of Thrones cast.
If you don't know much about Bjornsson, he's an Icelandic actor and strongman who should be perfect for the role of Clegane, otherwise known as "The Mountain." The man is 6 ft. 9 in. tall and weighs in at over 400 pounds. This actually makes him shorter than the other two men who have played Clegane; both Conan Stevens, who played the role in Season 1, and Ian Whyte, who played the role in Season 2, are 7 ft. 1 in. tall. More height makes sense for the character, who is described as a massive man who is "close to eight feet" tall and who has a vicious, murderous personality. Bjornsson may not have quite as much height, but he seems to have the bulk and should be a good fit for the expanded role Clegane should play in Season 4.
Clegane has a big role in the third book of George R. R. Martin's A Song of Ice and Fire novels. Because of this, it's a little surprising that the character didn't fit into Season 3 anywhere. However, since the book, A Storm of Swords, is being split into Season 3 and Season 4, there's no need to rush the plot or shoehorn in characters for the sake of shoehorning in characters. Because I know most of you TV fans who haven't read the books don't enjoy us tossing out spoilers, I won't tell you exactly why the murderous Clegane should play an expanded role in the new season. Needless to say, his role should have something to do with new character Oberynn Martell (Pedro Pascal), a prince of Dorne who doesn't love the Lannisters, but will be joining their court, anyway, in Season 4. If you are looking for spoilers, you can read more here.
The actor announced the news via Twitter earlier this week with much excitement and even an exclamation point.
One of the fun things about HBO's Game of Thrones is that the drama always offers a host of new characters and new actors. You'll be able to check out Bjornsson and the rest of the new cast for yourself when Game of Thrones returns to the schedule in 2014.
Photo Credit @ Twitter
Your Daily Blend of Entertainment News
Reality TV fan with a pinch of Disney fairy dust thrown in. Theme park junkie. If you've created a rom-com I've probably watched it.
Your Daily Blend of Entertainment News
Thank you for signing up to CinemaBlend. You will receive a verification email shortly.
There was a problem. Please refresh the page and try again.