Game Of Thrones Converse Sneakers Now Available For Purchase On Etsy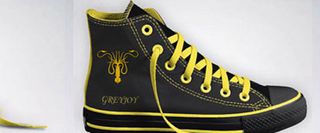 Do you love Game of Thrones? Are you partial to a particular house? Do you have an extra $115 lying around? Well then you're in luck, because now you can show your house pride in your very own pair of custom Game of Thrones Converse Chucks.
If there's one thing the Internet has proven, it's that you can create just about anything you want and put it up for sale, and people will buy it. You don't even have to create anything truly unique. Just take a pair of classic shoes that already have a following, take a TV series based on best-selling books with a near-fanatical following, and create a footwear mash-up to the tune of $115 a pair. In fact, these shoes are official Converse with the various house names already embroidered on them, and the seller has just added the logos.
Which is not to say that you shouldn't have your very own pair of Game of Thrones sneakers, and if that sounds like something you really need, head on over to the Tannim Etsy shop (opens in new tab) where you can choose from House Stark, Targaryen, Greyjoy, Arryn, Baratheon, Tully, and of course, Lannister. And you know, a Lannister always pays his (credit card) debts, so why not pick up a pair? These custom-made embroidered shoes might be just the thing to add to your wardrobe for fall. And by your wardrobe, I mean your jeans and t-shirts with funny sayings on them.
I'll admit to having paid as much or more for a pair of shoes in the past, and these actually do look like they're really well done, so I'm not here to judge. Why not pick up several so you can change your allegiance regularly and keep everyone on their toes? By the time Season 3 of Game of Thrones premieres in March, you could collect all seven.
Your Daily Blend of Entertainment News
Thank you for signing up to CinemaBlend. You will receive a verification email shortly.
There was a problem. Please refresh the page and try again.