Glee's 100th Episode Will See Return Of Old Cast And Favorite Musical Moments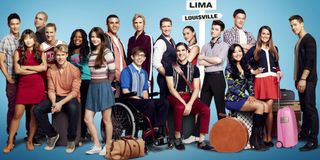 Ryan Murphy's FOX musicomedy/after school special, Glee is about to hit one of the most sought-after milestones in TV and there's far more than a parade going on: it's a goddamn veritable smorgasbord of characters. Murphy has very publicly announced (either because he's the king of casting overshares or as a way to strong-arm everyone into involvement) on Twitter that he's inviting everyone back for the show's 100th episode.
The move is not surprising, considering the 100th episode of any show is reason to throw a bit of a party, what with the possibility of syndication rights for re-airs of old episodes becoming available. It's also nothing to snuff at, regardless of your opinions, because it's not everyday that a television show can manage to hang on long enough to reach such a goal. Staying viable and wanted on television for that long is akin to riding a unicycle on a tightrope 400 feet in the air, trying to deliver ice cream cones to the waiting crowd on the other side.
So it makes sense that Murphy will spend much of the episode paying tribute. Premiering March 18 in its 8PM time slot, the 100th hour of McKinley High Hijinks will include a remix-and-mashup-apalooza featuring the top 10 Glee songs, as selected by the fans. It is said the episode will, according to the Hollywood Reporter, center on the current cast's impending march towards graduation. Prepare yourself for a bevy of nostalgia and memory-recounting. (No word if those kooky puppets will be making a second appearance.)
And hopping on board the good ship will be some of the series' popular guest stars and original show choir performers. Murphy has tweeted that many of the cast are set to return to not-so-mean streets of Lima, Ohio for what is sure to be a superstorm of singing, dancing, and jazz-handied life lessons worth celebrating (as the show is generally wont to do). So far confirmed to appear in the episode are fan favorites Heather Morris (who left the series prior to the birth of her son earlier this year), Harry Shum Jr, Mark Salling, recently crowned winner of Dancing with The Stars Amber Riley, and even occasional guest star Kristin Chenoweth.
There are, of course, still several faces up in the air. Dianna Agron (Quinn) is one of the few original stars that did not appear in the tribute episode for Cory Monteith that aired earlier this year, despite her character's previous relationship with Monteith's Finn Hudson. Additionally, there is the question of Matthew Morrison's on-screen wife, Jayma Mays — who was downgraded from series regular last year — who has appeared on occasion throughout the show's fifth season, but is busy starring in CBS' The Millers. No doubt Mays will likely return, but mum's the word on the Agron front.
Either way, the celebratory episode will no doubt be a joy for fans of the series. Just make sure your harmonies come correct.
Glee's 100th episode will air on March 18 on FOX.
Your Daily Blend of Entertainment News
Thank you for signing up to CinemaBlend. You will receive a verification email shortly.
There was a problem. Please refresh the page and try again.