Glee Watch: Season 4, Episode 8 - Gangnam Style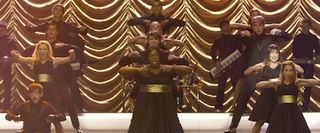 Gleeks, we got a belated Thanksgiving episode complete with sectionals, appearances by our favorite New Directions alumni and an orphan NYC Thanksgiving. Plus Marley's eating disorder has taken a dangerous turn for the worse. Let's recap, shall we?
Thanksgiving
I found it odd that Glee chose to air its Thanksgiving episode a week after Thanksgiving, but then again Fox has never been known for airing its holiday episodes during the actual holiday. (Simpsons Tree House of Horror comes to mind.) Anyway, Quinn, Mercedes, Mike and Santana were home for the holidays. And seizing the opportunity, Finn recruited them to mentor his New Directions kids. With sectionals looming, Finn's plan was to have Marley and Blaine duet, with Brittany and Ryder as the main dancers.
Meanwhile Rachel and Kurt decide to have an orphan Thanksgiving in NYC, and invite Isabelle to join in on the fun. Btw Isabelle's (Sarah Jessica Parker) "Let's Have a Kiki/Turkey Lurkey Time" was amazing. I vote we have more SJP every episode. And hold-up, Rachel invited Brody too? Looks like Rachel accepts Brody's half-ass excuse for sleeping with Cassandra, and now she is smitten again with the T.A. Okay Rachel, but if you get burned again by Brody and Cassandra, no one wants to see you blubbering about it.
Second chance for Kurt and Blaine?
Taking Isabelle's advice about trying to forgive, Kurt called Blaine and the two agreed to have a heart-to-heart talk at Christmas, and even ended the call with "I love you." Maybe these two will reconnect after all or at the very least, become friends again.
Quinn Hasn't Changed
Quinn and Santana suspect something is wrong with Marley. So when Santana finds laxatives in Marley's bag, she goes to Quinn and calls Kitty out. Quinn doesn't believe Santana, and here folks, we learn that Quinn and Kitty are definitely two peas in a pod. Quinn hasn't changed one bit, she's just moved beyond high school petty stuff. Now she is sleeping with her married (she claims soon to be divorced) 35-year-old professor. Ugh. Quinn, when will you learn to value yourself? Kudos to Santana for calling Quinn out on her bullshit, and slapping Quinn. Although Quinn's genius slapping, made it look like an equal exchange of slaps.
Marley's Eating Disorder
With Marley now using laxatives to lose weight, and complaining about being hot, cold and shaky, I figured it was likely she'd pass out while performing. And she did. So, now the question is, will there be a serious intervention next episode? Emma needs to sit Marley down and counsel her. And someone needs to hold Kitty accountable for filling Marley's head with ways to puke and her book bag with laxatives.
Sectionals
Schuester, Emma and Sue were in the audience to watch New Directions cinch another sectionals win. Well, I take that back. Sue wasn't. She hoped Robin would start wailing during New Directions' number. Haha. And Unique was back! Meanwhile worried about Marley, Ryder told Jake to take the dance lead. It's nice to see these two guys getting along. It's like Finn and Puck 2.0.
Regarding the performances, I really liked The Warblers, and wouldn't be surprised if there is an upset and they win this year. The Mennonite group was pretty entertaining too. Honestly though, I wasn't feeling New Directions' performance. I personally hate the song "Gangnam Style." It's annoying and a fad just like "The Macarena" was. So, it's making it hard for me to like New Directions' performance. Their dancing was cool, but ugh that song just sucks.
LOL Moments
Taking Quinn's advice, Kitty full-on winked at the judge during sectionals. It was cheesy, but pretty funny. I also LOL-ed when Brittany exclaimed, "I knew it. Mercedes was cloned" when Mercedes and Unique hugged.
Memorable quotes
Santana: "Quinn always was a genius slapper."
Kitty: "Every day I ask myself 'What would Quinn Fabray do?" Quinn: "It's really nice to know that people still remember me." Kitty: "Remember you? Oh no, we aspire to be you. Me especially."
Brittany: "I knew it. Mercedes was cloned."
Marley: "When I was 7 years old, I had a dream. It's the first one I actually remember. I was alone, on a stage, wearing a beautiful dress. I couldn't see the audience, but I could feel the full house. They had all come for one reason: to hear me sing. And now, thanks to glee club, with sectionals this week, that dream is about to come true. Well, except the part where Skeet Ulrich gave me a bouquet of kittens at the end. My dreams are weird."
Music featured
"Homeward Bound/Home"
"Come See About Me"
"Whistle"
"Live While We're Young"
"Let's Have a Kiki/Turkey Lurkey Time"
"Gangnam Style"
Gleeks, next week things heat up between Sam and Brittany, New Directions' shot at sectionals might be in jeopardy, and Kurt gets a chance to sing! See you next week.
Your Daily Blend of Entertainment News
Thank you for signing up to CinemaBlend. You will receive a verification email shortly.
There was a problem. Please refresh the page and try again.