Glee Watch: Season 5, Episode 11 - City of Angels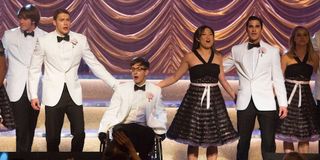 Gleeks, in Glee last night New Directions headed to L.A. for Nationals and the results weren't what we were expecting and hoping for. We also got a poignant visit from Burt and Carole, and Sue delivers a blow to Schue and his Glee kids. Let's recap, shall we?
Sam is the new Finn
Sam is faced with filling some pretty big shoes when Schuester asks Sam to step up to the plate and become the "new Finn." Sam agrees.
Mercedes is a Diva
Mercedes is living the f-a-b-u-l-o-u-s life. Her CD was picked up by Kanye West's housekeeper and passed it along to Ryan Seacrest. Booyah!
Marley's Reality Check
It seems Marley has had enough disappointment and doesn't want to be a singer/songwriter anymore. And after what happens at Nationals she's probably right.
Nationals Results
New Directions doesn't win this season. Bummer. Our gang takes second place while the winner is Throat Explosion. While I should root for New Directions, I can't help but love Throat Explosion's "Mr. Roboto" number. Nevertheless Burt and Carole reassured New Directions that Finn would still be proud. Aww.
But if you think losing Nationals is bad, it gets worse. After the Cheerios win another national trophy, Sue informs Schue that it's game over! She is disbanding the Glee Club. Naturally the news spreads like wild fire with Kurt informing the NYC group.
LOL Moments
Mercedes "faux-huauha" a.k.a. fake chihuahua.
Memorable Quotes
Schue: "They're with us in spirit, just like Finn."
Jean-Baptiste: "We are Throat Explosion! Expect us!"
Blaine: "Do you seriously have no idea who that is? Do none of you read choir blogs?"
Music featured
"I Love LA"
"Vacation"
"Mr. Roboto/Counting Stars"
"More Than a Feeling"
"America"
"I Still Haven't Found What I'm Looking For"
Gleeks, next week it is Glee's 100th episode! Can't wait! See you then!
Your Daily Blend of Entertainment News
Thank you for signing up to CinemaBlend. You will receive a verification email shortly.
There was a problem. Please refresh the page and try again.