Glee Watch Season 5, Episode 17: Opening Night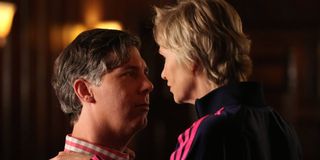 Gleeks, last night's Glee focused on Rachel's big Broadway opening night, Sue found love in NYC, and Schuester and Emma had their baby! Let's recap, shall we?
Rachel Prematurely Chokes
Opening night for "Funny Girl" is upon us, and Rachel works herself up in a tizzy by reading internet trolls' negative comments. Ahh never do that, Rachel! People can be so mean-spirited! Then Tina makes things worse by reminding Rachel about that time she lost her voice. Uh oh. Hush, Tina!
And if you think that's bad, Sue Sylvester is relishing the opportunity to see Miss Berry crash and burn. Just when things for Miss Berry look bleak, Santana arrives and snaps Rachel back to reality: Barbra got bad stuff written about her too. Bam! Rachel is back and ready to take on the critics.
Sue Finds Love
After hitching a ride (and a ticket) from Schuester, Sue embarks on a quest to prove why she hates NYC so much. (Hey, she wants her TV show segment to be factual.) Little does Sue know that she is about to find love - in the theater of all places. Sue spies the always hilarious Chris Parnell portraying a snarky New Yorker who hates plays too. The two bond over their hatred of the non-funny "Funny Girl" and proceed to have sex all over our Gleeks' apartment. Goo!
Baby Schuester
Schue made it all the way to NYC to see Rachel perform, when suddenly Emma's water broke. He made it home just in time to see baby boy Schuester be born. And his name? Daniel Finn Schuester. Aw. Hmm but there was no mention of the baby's hair color. Who wants to take bets the baby has a ginger fro?
And the Critic Says...
After telling off Sue in an epic way, Rachel and the gang head to the newsstand to grab a copy of the New York Times. Unable to read it, Rachel hands the paper to Kurt. And Kurt is too nervous to read it too. Santana doesn't mind being the bearer of bad news so she snatches the paper from Kurt and reads it out loud.
The tough New York Times critic loves Rachel's Fanny Brice. The gang - like a scene from the Newsies or The Babysitters Club - excitedly pass the paper around and read excerpts. The critic gives a glowing review and Rachel is beyond thrilled. Her dreams are coming true. Oh snap.
Favorite Song of the Night
Rachel's rendition of "Who Are You Now" was spine-tingling. It gave me goosebumps and was all the more poignant when the camera flashed back to Finn. Bravo Lea Michele for an amazing performance.
LOL Moments
Tina writing "Barbara" on the card, and Rachel realizing it's a fake because Barbra dropped the 'a' years ago in an act of rebellion.
Another funny moment was Chris Parnell wearing Kurt's silk cheetah robe. And Chris Parnell's befuddled reaction to Sue casually mentioning that Michael Bolton is the father of her child. Ah, the Michael Bolton father storyline gets me every time.
Memorable Quotes
Santana: "You suck at so many things. But not at this...Who gives a crap what all the other peasants think?"
Tina: "Oh my God, Sue had sex in your bed!"
Sue: "Thanks for making me feel like a girl."
Sue: "Adultery, that's what it is called."
Sue: "This is America, we speak English here."
Sue: "You see, I've been taking my cue from cable news lately and just lying a lot."
Music featured
"I'm the Greatest Star"
"Lovefool"
"Pumpin Blood"
"NYC"
"Who Are You Now"
Gleeks, next week on Glee, Shirley MacLaine guest stars. Oooh it's going to be good! Can't wait. See you next week!
Your Daily Blend of Entertainment News