Glee Watch Season 5, Episode 18: The Back-up Plan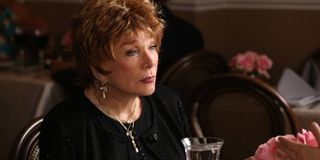 Gleeks, last night's Glee Rachel had the opportunity to audition for a television show, Mercedes needed a hit single for her album, and Blaine and Kurt met socialite June (Shirley MacLaine) who just so happens to have her eye on "rough diamond" Blaine. Let's recap, shall we?
Rachel Has a Career Change of Heart
Rachel is starting to feel the Broadway Groundhog Day rut when she suddenly gets an offer to fly to LA and audition for a role on "Song of Solomon." Only it's not quite what Rachel expects and she doesn't get the role. And if you think that's a bummer, Rachel is stuck in LA traffic and won't make it home in time to go on as Fanny. Uh oh. Rachel's lie to her producer threatens her burgeoning Broadway career.
Later Rachel learns she won't be fired, but she isn't exactly on good terms with her boss. He warns her that if she screws up again he will blackball her and sue her. Yikes!
Santana as Fanny and Maybe a Back-up Singer?
Meanwhile back in NYC it's Santana to the rescue. Santana steps in and gets to experience a night on stage as Fanny. Santana thinks it was cool and all, but the Broadway life ain't for her. In fact, she has a better offer: signing a contract with Mercedes.
I'd like to be optimistic and say an amazing partnership is about to happen, but if you've been following the tabloid news, word on the street is that Naya Rivera has been let go, though her rep denies this. Either way, what that means for Santana's storyline is anyone's guess. Let's hope that they have her enter the recording biz and at least give her a nice storyline send-off even if it won't be on-screen.
Shirley MacLaine
In last night's episode, Shirley MacLaine guest starred as an older fabulous socialite named June Dolloway. Kurt, a huge fan of June's, introduces Blaine to June. Unfortunately for Kurt, June takes a liking to Blaine and decides to mentor Blaine, not Kurt. For now it seems this isn't hurting "Blurt" but I predict it's only a matter of time before this causes more strain on their relationship. The handwriting on the wall appears to be a breakup...eventually.
Mercedes and Santana
Mercedes' album is finished but there is no hit song. Mercedes is bummed until she remembers that whenever she sings with Santana there is magic. She recruits Santana to help her get her mojo back. Mercedes' plan works like a charm.
Rachel's Own Pilot
If you've ever heard the story about how Lea Michele became a part of Glee, well then, you noticed the little inside nod, at the end of the episode, when Rachel got the call about getting her own show. Hmmm will Rachel go for it and risk being sued for breech of contract?
Favorite Song of the Night
This one was a hard choice. I loved Rachel's rendition of "The Rose" and Blaine and June's "Piece of My Heart," but it was Santana and Mercedes singing "Doo Wop (That Thing)" that was the best song of the night. It was fun and had me jamming.
LOL Moments
Rachel's audition partner was too much when he was making those spaceship machine noises. In fact, the whole plot for "Song of Solomon" was so over the top that it was ridiculously funny.
Memorable Quotes
June: "I've been in and out of love more times than you've had breakfast."
Blaine: "I dunno, maybe I should just stay home with you and watch Scandal."
Santana: "Stop just stop, all of your ideas are horrible."
Kurt: "Whatever door June opens for you I'll be right there next to you walking through it with you. You're taking one for the team."
Santana: "I know what I would do if I was in your position. I'm just not worth it."
Rachel: "That was seriously the worst audition ever."
Music featured
"Piece of My Heart"
"The Rose"
"Doo Wop (That Thing)"
"Story of My Life"
Gleeks, next week we'll see what happens with Rachel's potential show just for her. See you next week!
Your Daily Blend of Entertainment News