HITRECORD on TV Gets Second Season Order: 5 Reasons That's Great For TV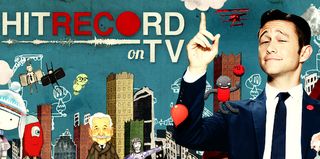 Following a soft-launch of his new series HITRECORD on TV, Joseph Gordon-Levitt announced that Pivot has already given a second season renewal to the digitally crafted variety show. And that's prior to the series even airing on TV yet! Which is certainly a rarity in this business, especially with a series as truly original as HITRECORD.
As reported by The Hollywood Reporter, the series — which premieres January 18th on the network — has already garnered nearly 500,000 digital streams, according to Participant president Evan Shapiro. Everything on this show — and we mean literally everything — is a collaboration between Gordon-Levitt and the website's members. Right down to the bumpers on either side of the commercial breaks. Because HITRECORD ON TV is all about capturing life's emotional moments — regardless of how big or small they may be in the grand scheme — as its synonymous tagline urges from the start: "Are we RECording?"
HITRECORD on TV Will Innovate
The series takes the variety show format and crosses it with the creativity of the Internet's hive mind. There aren't many shows that do that, let alone do it well. Sure, social media appears on television on an almost near-constant basis these days, but that's hardly the same. HITRECORD never approaches creating the same way twice — how's that for innovation?
It's Democratic Television
By utilizing his online production company HitRecord.org for the series' content, people who previously would've never had the opportunity to showcase their work on TV, will. And it isn't a free-for-all, but rather the cream rising to the top (as long as they're willing to collaborate). And really, wouldn't we all benefit from seeing and learning how working together rather than apart makes things all the more dynamic? Hello, Lessons America Needs in 2014.
It Takes Risks
An entire show about the number one? How about one dedicated solely to garbage? HitRecord takes abstract concepts and translates them to the small screen via song, short films, stories, and more. Because the series is so freeform, the presentation of content has no rules, which in turn will give rise to things we never previously imagined possible. A poem turned into a song turned into a graphic novel turned into a short film? HITRECORD is the only place where that could possibly happen, let alone be done well.
It's Not About The Host
It would have been more than easy to make a series created by Joseph Gordon-Levitt all about him. I mean he's handsome, charming, and talented on top of being a huge audience draw. And when so many shows rely solely on the desirability of its hosts and/or celebrity names (cough cough, almost every talent reality competition show ever, cough), Gordon-Levitt makes a point to never have the focus of the show be all about him. And it says a lot about his commitment not only to quality, but to the series' point: to showcase all that's possibile when we stop, collaborate, and listen.
It Will Make You Happy
There may not be a more sincere series on television, if for nothing more than how much honest-to-goodness emotional investment goes into every single snippet. Nothing is off-limits, so long as it caters to its point and its audience. "It's about creating a supportive community that's not commercially-minded, even though we do pay the artists," Gordon-Levitt said of the series' crowd-sourced nature. "What's important is a sincere connection between human beings."
Check out the first episode, below, and tune into HITRECORD on TV Saturdays at 10PM on Pivot.
Your Daily Blend of Entertainment News
Thank you for signing up to CinemaBlend. You will receive a verification email shortly.
There was a problem. Please refresh the page and try again.