Harry Potter As Edward Cullen On The Simpsons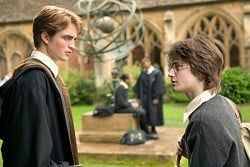 This is news you're going to have to file away and remember for a long time. According to Zap2It, The Simpsons have just signed Harry Potter's Daniel Radcliffe for their "Treehouse of Horror" special scheduled to air around Halloween 2010. That's only eleven short months away -- mark your calendars! So why is that relevant now?
Because Radcliffe won't be playing Potter in the special. Instead, he'll be voicing Edmund, a spoof of Robert Pattinson's Twilight character Edward. The short will feature Lisa and Edmund falling in love, despite the misgivings of their fathers, Homer and Dracula.
I guess that rules out any chance of Emma Watson mocking Kristen Stewart's Bella, but let's not rule out Rupert Grint as Yakov, a Russian werewolf parody of Taylor Lautner's Jacob.
Luckily, it looks like The Twilight Saga: Eclipse will likely be out by then, so at least the references won't seem as painfully dated as some of their more recent installments. Plus, while it would have been more fun to obviously get Pattinson to voice his own parody, the inclusion of Radcliffe is certainly an interesting choice. At least the two actors do share a connection via their work together on Harry Potter and the Goblet of Fire, so we can see it as a friendly nod between colleagues.
Your Daily Blend of Entertainment News
Thank you for signing up to CinemaBlend. You will receive a verification email shortly.
There was a problem. Please refresh the page and try again.