Helix Season 2 Trailer: We're In For Some Craziness This Season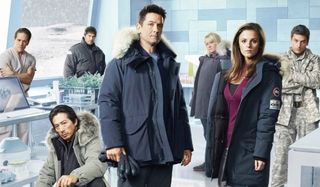 Syfy has released another trailer for Season 2 of Helix, and it gives us the best glimpse that we have gotten so far of the mysterious island and all of the other juicy plotlines the show will introduce in January. From the looks of this trailer, Season 2 will be nuts. Check it out.
Season 2's tagline is "Play God, pay the price." I am guessing the individual who is "playing God" would be Steven Weber's still unnamed character. Weber is playing a geneticist who runs a strange, isolated yet oddly scientifically-based cult on an island. I'll be very curious to see what exactly Weber's character is up to. Dr. Alan Farragut and his team at the CDC are first clued into Weber's island after someone contracts this deadly--and super gross--illness after spending time on Weber's creepy island. Most of Season 2 will take place on the island as opposed to an artic lab, like last season.
Season 2 looks so drastically different from the first season, and from the trailer, it seems to have a very different feel as well. It certainly feels like this season will be completely fresh, and will have totally new stuff for us to uncover. Up until this point, however, we didn't have a great deal of information on the island apart from the fact that the inhabitants are part of some creepy cult and there is a nasty bug spreading around. We still don't know a ton, but the show certainly emphasizes the eerie cult vibe in this trailer. Just look at this group of torch-bearing, hood-wearing weirdos. I personally have found that cloaked torch-bearers on a creepy secluded island are always some sort of a red flag.
And who was that with the group of creepsters? The shot is very quick, but it kind of looks like Sarah. Is she okay, or are they just escorting her somewhere? We know that Alan and his group came to the island to investigate the illness, so it's likely that they are just escorting her to the island's headquarters... in the creepiest, most inhospitable way in the history of mankind. The trailer also really focuses on the group growing their own food--namely these fruit varieties. What's going on with the fruit? There was a theory that was tossed out over the hiatus that this season, instead of a virus, Alan and his team from the CDC would be dealing with some sort of a mold spore. It could be possible that the mold is coming from the cult's suspicious fruit trees.
My biggest question here is what Steven Weber's character's goal is. That has to be a large focus during Season 2, and while we will likely eventually get answers, it doesn't make me any less curious. Is Weber's character really just trying to create a happy community and lead his group of people in the best way that he can, or is he attempting to grow some type of awful mold-borne illness? Is he trying to wipe out his own people, or are his attempts to those in the outside world from which he and his group have so carefully cut themselves off? Luckily we don't have to wait too long to see what the deal is with Weber's creepy island cult. The Season 2 premiere of Helix will hit the schedule on January 16 at 10 p.m. ET on Syfy.