Hershey's Reacts To The Brand's Big Moment In Mad Men's Season Finale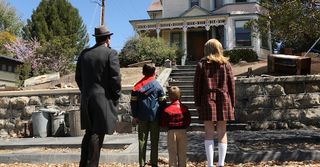 Chocolate enthusiasts may already be aware that Hershey's chocolate has a faintly sour aftertaste. In fact, that flavor distinguishes the American-made chocolate from many of its European competitors. While Hershey's chocolate may mix sweet and a little bit of sour for a distinctly delicious taste, the memory of its flavor is bittersweet for Don Draper, whose honest and uncharacteristically candid recollection of his early Hershey's memories weren't quite as appealing to the fictional Hershey's reps featured in the Mad Men season finale as they were to the actual brand, which was flattered by the reference.
If you haven't seen it (Season 6 finale episode spoilers ahead!), here's the scene, which shows Don Draper delivering his pitch Hershey's in his familiar, nostalgic tone, carefully and deliberately bringing the client into one of his own memories - a day his father let him buy a candy bar - with a kind of trained finesse that's come from years of experience selling an idea. You can almost believe that this version of young Don Draper ever existed. And then, in a surprising turn - though not all that surprising if we consider Don's destructive workplace behavior all season - he backtracks, admits he lied and tells a true story about Hershey's Chocolate making him feel like a normal kid for a few blissful moments during his otherwise sad existence growing up in a Pennsylvania whore house.
To say that it was unlike Don to reveal so much truth about himself would be an understatement. To say that he blew the pitch would also be an understatement. I'm pretty sure any pitch that involves "whorehouse" is going to raise an eyebrow or two. To add insult to injury, he went on to discourage Hershey from advertising at all. It wasn't particularly surprising that the partners finally had to step in a give Don a nudge out the door for some much needed time off. But how did Hershey feel about being featured in such a crucial moment in the series? Vanity Fair quotes Hershey''s senior manager of brand P.R. and consumer engagement Anne Lingeris as saying, "the company was thrilled and incredibly flattered to be part of such a popular television show."
From the sound of it, the people at Hershey's knew that there was interest on Mad Men and AMC's part, but they had no idea about how the brand would be featured in the series or the season finale. And it doesn't sound like they're particularly concerned about any negative connections that might be made between Don Draper's true memory of chocolate and the Hershey brand.
Not only is Hershey planning on using the episode as a way to show their workers "the power of this iconic brand that we get to live with and work with every day," but it sounds like they'll be making some large product donations of gratitude for the big moment in the show. As a fan of Hershey's, I'm extremely envious of Mad Men showrunner Matthew Weiner and anyone on the receiving end of that gratitude.
Your Daily Blend of Entertainment News
Thank you for signing up to CinemaBlend. You will receive a verification email shortly.
There was a problem. Please refresh the page and try again.