History Channel Goes Scripted With Vikings Drama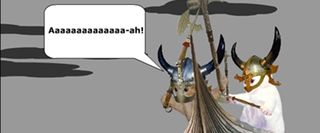 The list of traditionally non-scripted networks jumping on the scripted bandwagon continues. The History Channel already tried its hand at scripted programming with the recent Hatfields & McCoys miniseries, and now they're lining up an honest-to-gosh ongoing series. Michael Hirst (The Tudors) is writing Vikings, a scripted series centered around the Norsemen, and specifically around the rise of a warrior named Ragnar Lothbrok to become king of the Vikings.
The show was first announced several months ago, and it has since lined up several cast members. The biggest name attached is Gabriel Byrne, who will play Earl Haraldson, a former warrior and Ragnar's chieftain. Travis Fimmel (The Beast) will play Ragnar, Glee's Jessalyn Gilsig will play Byrne's wife, and Gustaf Skarsgard will play Ragnar's close friend, Floki. If his last name sounds familiar, it's because he's the brother to Alexander Skarsgard, who plays – appropriately enough – an undead Norseman on HBO's True Blood. Floki is described in the THR story as "an eccentric jokester but creative boat-builder." Handy skills to have as a Viking, I suppose.
Also on board are Clive Standen from Starz's Camelot and Katheryn Winnick from Bones. Standen will play Rollo, Ragnar's cruel cousin, and Winnick will be in the role of Ragnar's first wife, Lagertha. I'd say that "first" part doesn't bode well for her future, but I could be wrong.
Vikings doesn't have an official premiere date yet, but is scheduled to hit sometime next year. With Hirst and Byrne's involvement, this might be one to keep an eye on.
Your Daily Blend of Entertainment News
Your Daily Blend of Entertainment News
Thank you for signing up to CinemaBlend. You will receive a verification email shortly.
There was a problem. Please refresh the page and try again.