Homeland Season 4 Will Offer Fans Double-Episode Premiere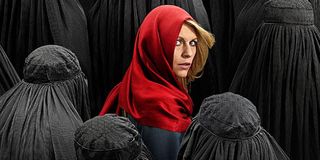 What's better than an hour-long premiere of a new season of Homeland? Why, back-to-back brand new episodes of Showtime's hit drama, of course. That network is making some scheduling changes to its fall lineup, and if you are a fan of Homeland or anticipating the premiere of the network's new drama The Affair, everything's coming up roses for you this Monday. Not only will the network be premiering back-to-back episodes of Season 4 of Homeland on the same evening, Showtime has also moved up the premiere of The Affair, as well.
Homeland's fourth season is set to premiere on Sunday, October 5 at 9 p.m. ET. Then, at 10 p.m. ET, Showtime will air the second episode of the season. The following weekend, Showtime will premiere its brand new series The Affair on Sunday, October 12 at 10 p.m. ET. The reason for the pushup of The Affair is pretty simple. In a press release, network Executive VP Gary Levine stated, "Once we decided to premiere Homeland with a double episode, it made sense to use the momentum of that event to launch our newest series, The Affair, the very next week on October 12th."
It may not take a rocket scientist to come up with that plan, but it's still smart to tie a new series with another well-performing drama. There are plenty of reasons to tune in for both. Homeland is coming off of a shocking series of episodes, with the death of a major character leading our heroine, Carrie Mathison, to head overseas to the Middle East, taking on new and challenging roles on the front lines. I wouldn't necessarily pair Homeland and The Affair in a perfect world of cross-promotional opportunities, but the latter also looks like a keeper, thanks to a trailer that highlights an intense but trouble love affair. So, I guess in both being extremely watchable, their subject matters overlap.
Showtime hasn't quite managed to pull in the types of ratings that HBO has been able to nab with some of its more prominent programming. Part of the problem is that Showtime is still a fan of letting some of its popular programming run well past its course. Think Dexter. Think Nurse Jackie. Another problem is that the network often chooses thought-provoking but niche dramas that do well critically but don't always find a wide audience. Although I don't expect The Affair to become a game changer in that department (it certainly doesn't look to be the next Game of Thrones), Showtime's fall lineup still should be worth a watch.
Amazing Race & Top Chef superfan with a pinch of Disney fairy dust thrown in. If you've created a rom-com I've probably watched it.
Your Daily Blend of Entertainment News
Thank you for signing up to CinemaBlend. You will receive a verification email shortly.
There was a problem. Please refresh the page and try again.