Hot In Cleveland Spinoff Gets A Pilot Starring Cedric The Entertainer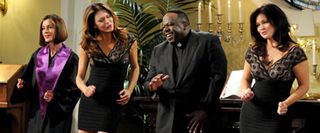 I haven't caught Hot in Cleveland – I get enough of Wendie Malick on those Human Society commercials – but by all accounts the show is fairly funny. Hot in Cleveland is certainly popular for cable, having earned TV Land the highest ratings in the history of the channel posted during its second season. Now Hot in Cleveland, which stars Malick alongside Betty White, Valerie Bertinelli, and Jane Leeves, could be getting a spinoff.
The spinoff comes on the heels of a guest appearance by Cedric the Entertainer, who played a minister on an episode back in August. At the time Hot in Cleveland creator Suzanne Martin pushed the guest role as a backdoor pilot in the hopes the episode would go over well. According to Deadline, the plan panned out, because TV Land has ordered a pilot based on Cedric the Entertainer's Hot in Cleveland character.
Cedric's character the Reverend Boyce first appeared in an episode of Hot in Cleveland where Elka (White's) plans to get married. Instead of remaining in Cleveland, the potential spinoff story will follow the Reverend Boyce as he heads to St. Louis where he must deal with his family and a full congregation. A storied past will also play prominently into plot. While the pilot order does seem hasty, I'm all in favor of TV Land trying a hand at more original programming. I think most people could handle a show focusing on Cedric, given it is only one half hour commitment a week.
Your Daily Blend of Entertainment News
Thank you for signing up to CinemaBlend. You will receive a verification email shortly.
There was a problem. Please refresh the page and try again.