The Hotwives Of Orlando Review: Hulu's Reality Spoof Flaunts Impeccable Female Ensemble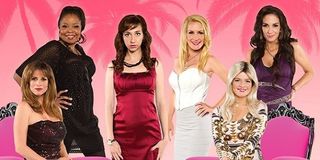 With the release of "Weird Al" Yankovic's new album, I pretty much assumed that this week's "parody quota" had been met in full. O, how wrong I was. Case in point: Hulu's The Hotwives of Orlando, a pitch-almost-too-perfect skewering of Bravo's revolving door of Real Housewives series. Created by the clever duo of Danielle Schneider and Dannah Phirman, The Hotwives of Orlando is laugh out loud viewing for both those who live for reality TV and those who would rather swallow their eyeballs than partake. And it's all thanks to a superior female cast that outshines the enjoyable supporting male co-stars at every turn.
Schneider is the Jersey-est of the bunch as the over-privileged Shauna Maducci, a rage-filled wife oblivious to the constant distaste displayed by her increasingly broke husband Anthony, played by Upright Citizens Brigade mastermind Matt Besser. She's friends/not friends with the trophy wife Tawny St. John (Casey Wilson), a faux-faux-blonde who is having an affair with her personal trainer (played by New Kids on the Block's Joey McIntyre!!!) often right in front of her clueless husband (the always excellent Stephen Tobolowky), whom she claims is dying even though he's a picture of good health. Next, there's Veronica Von Vandervon (Andrea Savage), a dog-obsessed British lazyperson whose sexual nature oozes every time she talks.
The Office's Angela Kinsey plays Crystal Simmons, whose conservative Christian views are fueled by her husband T.J. (Seth Morris), who has fooled her into thinking that only men can read the Bible, which allows him to quote a bunch of fake passages in order to get his way. (As misogynist TV characters go, T.J. stands above, and Morris is hilariously blah about it all.) Crystal's sister Amanda (Kristen Schaal) is a non-recovering alcoholic and narcotics abuser whose place within the Hotwives isn't quite clear, as no one really likes her, but Schaal is untouched in the "making awkwardness an artform" department. (Amanda starred in a prune juice commercial as a child.) And finally we have Phe Phe Reed (Drunk History's Tymberlee Hill), the cake-designing law-practicing taxidermist who spins every word out of her mouth into a catchphrase of some kind, or a "Phe Phe" as it were. She's married to Rodney (Jerry Minor), a philandering sports mascot. Co-creator Phirman also appears in a few episodes as Allie, Crystal's friend who isn't part of the Hotwives, but desperately wants to be, sometimes just inexplicably appearing in a scene.
Yes, they're all caricatures, and yes, they're all absolutely amazing. I suppose the big question here is, "Does the world need a parody of a series that has already become an ironclad self-parody?" The answer, of course, is yes. In the same way that the equally jocular Burning Love sapped even more IQ points out of The Bachelor and The Bachelorette – and, by extension, how Childrens Hospital aped the maudlin suspense guiding modern medical dramas – The Hotwives of Orlando makes it okay to laugh at these dimwitted and money-wasting situations without feeling like time is being unjustifiably wasted. I would much rather watch a vocally-inept Casey Wilson character bumble her way into a murder-filled music video than watch an actual untalented reality star get an actual recording deal.
There are scenes that revolve around the attack of telling someone to "calm down," which is akin to a racial slur with this group. It should be annoying to watch grown women wag their fingers in each other's faces while yelling at each other to calm down, or argue about not being friends anymore, but it isn't. It should be troublesome to watch a woman go through an elective surgery for a vaginal lift, but it isn't. There are brains and wit behind all of this stupidity that acts as an anchor even when the satire goes kind of overboard. Someone out there will probably write (or has already written) an editorial about women leaning too heavily on sluttish stereotypes to mine comedy, but it won't be me. I'm all about whore couture.
I have so few complaints about this show, I'm kind of shocked. Everything works for me, from the always-changing opening to the non sequitur "Coming Up" segments to the over-edited flashback clips. The first episode's "High Heels for Dogs" fund raiser set the bar for the kind of buffoonery, and everything that came in the next six episodes went into building a tawdry and spray-tanned house of cards atop it.Though 30 Rock may have been the first out the gate with turning the Real Housewives franchise on its head, The Hotwives of Orlando does it bigger and better. Plus, the main cast is joined by a bunch of guest stars, including (among others) Weird Al, Horatio Sans, Kulap Vilaysack, Rich Fulcher, Kate Walsh, Jeff Hiller and Paul Scheer, whose hideous Matty Green appears at the end of each episode to promote his fake chat show The Hotwives Cooldown. They're the sprinkles on the icing on each layer of this delectably trashy cake.
All seven episodes of The Hotwives of Orlando are currently available for Hulu Plus subscribers, while non-paying Hulu perusers currently have access to the first two episodes, with the next five being released on a weekly basis. Whether you watch them one at a time or all at once, you'll find yourself saying things like, "I will slap a dead bitch," and "Put a lime in it," in no time.
Your Daily Blend of Entertainment News
Assistant Managing Editor
Nick is a Cajun Country native, and is often asked why he doesn't sound like that's the case. His love for his wife and daughters is almost equaled by his love of gasp-for-breath laughter and gasp-for-breath horror. A lifetime spent in the vicinity of a television screen led to his current dream job, as well as his knowledge of too many TV themes and ad jingles.