How The Big Bang Theory Honored Carol Ann Susi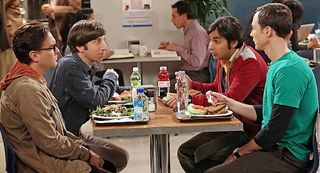 The Big Bang Theory family suffered a tragic loss this week when character actress Carol Ann Susi died of cancer at 62. You may be wondering "who?" when you read the name but once you hear the voice, it is unmistakable just who has passed. The voice of Howard Wolowitz' mother Debbie has passed suddenly after a brief bout with cancer with which she was diagnosed less than a month ago.
According to Deadline, the longtime actress who was celebrating her 40th year in the business, passed suddenly devastating the cast and crew of the hit CBS show. Rather than have co-creator's Chuck Lorre's usual vanity card at the end of the show, they featured a picture of Carol Ann Susi with the words:
The Big Bang producers are overwhelmed at the sudden passing of their castmate and have yet to make a decision regarding how to move forward with the character of Mrs. Wolowitz. Susi's voice as the overbearing mother to the diminutive astronaut engineer Howard.
Prior to the tribute that aired during this week's episode, The Big Bang Theory executive producers, along with Warner Bros. Television and CBS, issued the following statement expressing their condolences...
The veteran actress appeared in dozens of television shows and movies and even managed to steal scenes from Jason Alexander on Seinfeld back on the Keith Hernandez episode in the early 90's...
She also co-starred as Michael J. Fox's secretary in 1987's The Secret of my Success and had guest spots on a slew of high profile sitcoms like Cheers and Married…With Children. The fate of the hysterical character seems to be up in the air for right now as producers begin to run damage control to figure out the fate of the scene stealer.
Although unseen by viewers for almost eight seasons, the legend of Mrs. Wolowitz and her snappy one liners were a joy for fans to listen to as Howard dealt with his mother. Tweets and messages have lit up the Internet praising the late actresses incredible ability to make people laugh. It is unclear how many episodes Susi had shot before her passing but we will keep you posted on any and all Big Bang related news. She will be missed.
Your Daily Blend of Entertainment News