How The MTV Video Music Awards Are Being Targeted By The PTC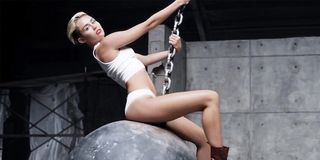 If you thought MTV's Video Music Awards were going to go off without a hitch this year, you thought wrong. In advance of next week's broadcast, the family-values group Parents Television Council has sent a letter imploring companies not to advertise during the broadcast. Why, you may ask? Because of host Miley Cyrus.
According to The Hollywood Reporter, the conservative watchdog group has taken issue with the choice of Cyrus as the host of the annual awards ceremony due to her now-notorious 2013 performance with Robin Thicke. They're also critical of the content of the last edition as well, and they sent a letter to 25-30 advertisers asking them to reconsider where they spend their marketing dollars, claiming that MTV is marketing sexually explicit imagery to young audiences.
The PTC made their displeasure known when it was announced that Cyrus will host the annual gala. They claim that MTV is "courting controversy," citing the instance from a few years back where the 22-year-old singer and actress ground all up on Thicke, among other things, during their performance together. Backlash against that show, in part, led to a much tamer 2014 VMA broadcast, and while the PTC seemed somewhat sated, they still decried the use of sexually suggestive dancing and scantily clad dancers. And condom commercials, they don't like condom commercials.
In order to convince advertisers, in their August 12 letter, the PTC cites studies that ads that air during more risqué programming tend to be less effective and less remembered. Their letter reads:
The PTC has also used this as an argument for a la carte cable packages, where consumers can pick and choose what channels they subscribe to, controlling access to what content comes into their homes.
MTV declined to comment when THR reached out to get their side of the story, but choosing Miley Cyrus to host their biggest event of the year is certainly a bold choice, one designed to capture attention. Her performance with Thicke made headlines and kicked off a momentary nationwide fascination with twerking. Last year she made news in a different way, sending a young homeless woman to the stage to accept her VMA for "Wrecking Ball" in an effort to raise awareness and money for homeless youth.
We'll see how everything goes when MTV airs the Video Music Awards next Sunday, August 30.
Your Daily Blend of Entertainment News