Wet Hot American Summer Is Finally Moving Forward At Netflix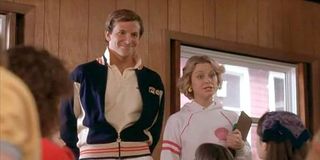 It looks as if Netflix is definitely picking up the Wet Hot American Summer project fans have been looking forward to. This week, we learned that Netflix has signed on for a miniseries based on the cult movie, which follows a group of camp counselors who get up to shenanigans while simultaneously being responsible for the lives of children.
Netflix hasn't spoken out about whether or not Wet Hot American Summer is officially moving forward, but a new report over at E! indicates that not only is a miniseries happening, but that it is going into production in January. So far, none of the show's original cast has been officially confirmed for the new miniseries.
Although few details have come forth about the Wet Hot American Summer project, a miniseries is not out of the question. Those in the know, including co-writer David Wain and co-writer Michael Showalter, have long spoken about a potential for a Wet Hot American Summer reunion. Back in May, Netflix was already looking to turn Wet Hot American Summer into a TV series (I guess now that's changed to a miniseries). The good news doesn't stop there, however.
Over the summer, Showalter spoke out to explain that he hopes most of the core cast will return for the series, which is expected to be set on the first day of camp in 1981, with flashbacks to that year. At that same time, Showalter said he would be uninterested if the core cast decided not to return, which is a big deal, considering the cast includes such popular names as Paul Rudd, Amy Poehler, Bradley Cooper, Christopher Meloni, Elizabeth Banks, Ken Marino, Janeane Garofalo, Michael Ian Black, Jo Lo Truglio and more. Obviously, a lot of those people have moved on to successful film and TV careers, making scheduling a potential logistical nightmare for Netflix if all or most of the original cast members do decide to return. (On the bright side, Parks and Recreation just wrapped up its final day on set, so Poehler should be fairly easy to schedule.)
This isn't the first time a potential follow-up to Wet Hot American Summer has come to light. A potential prequel film was a possibility as early as 2011, and the gang began speaking more seriously about the possibility in 2012. Obviously, scheduling has been difficult and none of the former projects came to fruition, but a miniseries over at Netflix seems like an ideal situation. It could even be shot with different actors at different times—sort of how Arrested Development was able to bring back the cast for its Netflix reunion. Regardless of how the miniseries eventually pans out, it's nice that the ball finally seems to be rolling.
Amazing Race & Top Chef superfan with a pinch of Disney fairy dust thrown in. If you've created a rom-com I've probably watched it.
Your Daily Blend of Entertainment News
Thank you for signing up to CinemaBlend. You will receive a verification email shortly.
There was a problem. Please refresh the page and try again.