How The NFL Live Stream Experiment On Yahoo Went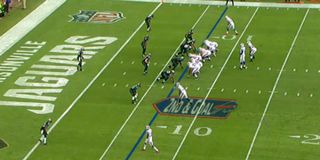 Outside of religion, few institutions have the raw power to draw in weekly audiences like the NFL. This past Sunday, the NFL experimented with online broadcasting of their football games – providing London with a live-stream of the Week 7 matchup between the Buffalo Bills and the Jacksonville Jaguars. Now that the dust has settled, it seems that the broadcast did OK.
The numbers are in and Yahoo told investors that everything went all right. More than 460 million minutes of game time was streamed during the 195-minute game, which sounds like a lot. But when all the numbers are crunched that leads to an estimated viewership of roughly 2.36 million per minute. While the audience for the stream proved low by NFL standards, it should be noted that it shattered Internet records for live-stream viewership. For comparison sake, CNN's presidential debates reached – at their best – 1 million streams, and last year's Super Bowl reached roughly 1.3 million.
In addition, it has been estimated that the broadcast reached 15.2 million people, with the bulk of the number coming from Yahoo automatically playing the game on their home page. Overall domestic audiences primarily viewed the game, but a respectable 1/3 of viewership came from overseas as a result of the new format. This event proved historic as it marked the first time that a lone company had broadcasted an NFL game via the Internet.
NFL senior vice president Hans Schroeder remarked on the performance of the stream:
In terms of overall performance, audience reception was mixed. Some of the sampled audience reported no issues while streaming the game.
Others had trouble achieving a reliable connection. The game saw a total of 33.6 million total steams throughout the day – a number that means some users loaded the stream multiple times.
If nothing else, this event exemplifies the overall shift towards Internet streaming as a primary source of entertainment for millions of people around the world. Companies like Netflix and Hulu have already started to dethrone numerous traditional broadcasting companies, and major sports outlets have begun to take note. However, based purely off the numbers, it seems unlikely that streaming will supplant traditional television for our NFL needs any time soon, but next season could see in immense surge in the amount of games streamed online. For now, the service will be used to cast a wider net for international audiences.
Originally from Connecticut, Conner grew up in San Diego and graduated from Chapman University in 2014. He now lives in Los Angeles working in and around the entertainment industry and can mostly be found binging horror movies and chugging coffee.
Your Daily Blend of Entertainment News
Thank you for signing up to CinemaBlend. You will receive a verification email shortly.
There was a problem. Please refresh the page and try again.