Why Ballers Is Able To Use Real NFL Logos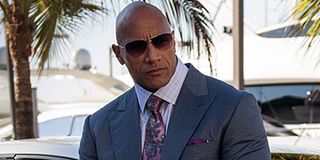 This past weekend saw the premiere of HBO's latest foray into dramatic comedy with Ballers. Riding the white-hot stardom of Dwayne "The Rock" Johnson, the show also raised the collective People's Eyebrow when its football-centric focus noticeably displayed some seemingly copyright-encased NFL logos. However, it seems that for the show's purposes, it's legal to use real NFL logos.
A report by Business Insider, focused on the recent revelation that the NFL team uniforms and displayed logos used on Ballers were not used with the often quoted criteria of having the league's "express written consent." However, the piece does a little legal sleuthing, pointing out that HBO's usage of the iconic imagery is absolutely within the scope of the law. Apparently, it's all about how the intellectual property is depicted.
Right from the pilot's opening scene, Dwayne Johnson's central character, ex-football star Spencer Strassmore, flashes back to his glory days in the NFL as a Miami Dolphin rather than something generic, like, say a "Coconut Creek Codfish." From the onset, which had Johnson's Strassmore chasing down an equally unambiguously logo-ed Buffalo Bills quarterback, one would think that this was a project co-produced by the league, or, in the very least, was a blatant example of cross-promotional commercialism. However, as it turns out, it's a shining example of what can be accomplished under the auspices of fair use.
Entertainment lawyer named Michael C. Donaldson, who specializes in copyright issues confirms that the show is, indeed, free to use the NFL's copyrighted paraphernalia with impunity, sans official permission of any kind. However, that is not to say that such a privilege comes without complex caveat. According to Donaldson, copyright law dictates that the user depict the IP in a way that is fundamentally factual, relating to its intended purpose while avoiding anything that would "disparage or tarnish" the brand.
Given the variety of scandals that have engulfed the NFL in recent years, those parameters might seem difficult. While the recent news cycle could lead the show to depict the NFL as being a corrupt organization that enables cheating, domestic violence, animal abuse and even murder, such a juxtaposition being an expressed theme in a piece of fiction would cross the line between public perception and necessary factual provenance. According to Donaldson, the legal loophole of sorts undercuts what he seems to describe as a bit of an unnecessary rights-selling racket. The perceived minutia, which is certainly magnified by the NFL's famously threatening legal disclaimers, tend to incite an atmosphere where people actually pay for these depiction rights, just to be on the safe side. However, besides being a showcase of testosterone-teeming temerity, Ballers is quite openly crossing the line of scrimmage, demonstrating what's feasibly usable in fiction.
Of course, fans won't be tuning in to Ballers for its creative copyright stratagem. They want The Rock, as well as gritty gridiron action, mixed with the kind of "this is why the world hates us" opulence evocative of the Entourage genre. You can currently catch Ballers on HBO at Sundays, 10 p.m. EST.
Your Daily Blend of Entertainment News
Thank you for signing up to CinemaBlend. You will receive a verification email shortly.
There was a problem. Please refresh the page and try again.