I Have No Idea Where The Good Wife Is Going And That's Thrilling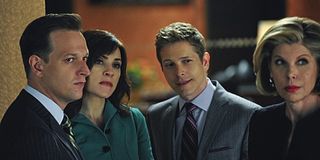 I have no idea where The Good Wife is going. None. I've spent the past day and a half trying to find clues I may have missed or a clear, logical exit strategy out of the brilliant and seemingly crippling corner the writers have painted themselves into, and I'm only able to muster up a few guesses I'm less than confident about, which is a very unnatural and uncomfortable feeling to me.
I'm typically a pretty savvy television viewer. When I'm watching a procedural, I often don't make my killer guess based on actual clues. Instead, I forecast ahead based on stupid things like the order the suspects were interviewed in, the actors and actresses playing each of the possibilities or even whether someone seems a little too random or unimportant to be there. That's what watching more than a dozen hours of network programing every week will do to you, but when it comes to The Good Wife, I'm absolutely floored.
There are quite a few plots going in different directions right now involving Governor Florrick, Eli Gold and an ethics committee, Grace's burgeoning sexuality and the firm being wiretapped by the government, but the primary story arc centers around the fracturing of Lockhart Gardner. Cary Agos is leaving the firm with the other fourth years thanks to a very complicated partnership offer renege that makes complete sense. As of right now, our title good wife, Alicia Florrick, has agreed to join him, alongside second investigator Robyn. In theory, this would set up an almost limitless future of storylines with Diane, Will, first investigator Kalinda and David Lee on one side and Cary, Alicia, Robyn and perhaps one of the fourth years to be given a larger role on the other side. But now, the above scenario is impossible.
Thanks to a scathing interview Diane gave in which she hammered Will in an effort to win a judicial nomination, she was thrown out of her own firm this week. She's still banking on that Illinois Supreme Court nomination coming through, but since that would send the show in too many different directions, I'm fairly confident that's out. So, now, she either needs to start her own firm or she needs to join Cary, Alicia and the fourth years. If she does join them, however, that tips the balance too far in the other law firm's favor. Think about it like a pick up game. The Good Wife writers are clearly assembling a scenario in which the team we've fallen in love with fractures and is forced to do battle against one another, but for that to work, the sides have to feel even. Will is almost without question the best lawyer the firm has, but he still needs wingmen and David Lee, shrewd as he might be, is primarily a divorce attorney. For all of this to work, Alicia needs to stay with Will, Will and Diane need to make up or they need to go to the bullpen.
But how that hell that might happen is completely beyond me. At the end of this past episode, Alicia told Cary she's still on board and wants to leave this week. Beyond that, upcoming scenes show Will screaming and throwing all of the shit off of Alicia's desk, apparently after discovering she has been conspiring with Cary and the fourth years to leave. Maybe we'll find out she decides to stay, and he's just mad she didn't tell him about the plan. Maybe he'll throw her ass out of the firm and hire one of the brilliant recurring lawyers we've seen over the years including but not limited to Elsbeth Tascioni (Carrie Preston), Captain Laura Hellinger (Amanda Peet) or Mike Kresteva (Matthew Perry). Hell, if they didn't have their own shows, I could even see the writers bringing in Louis Canning (Michael J Fox) or especially, the brilliant and manipulative Patti Nyholm (Martha Plimpton). Right now, The Good Wife could go in a lot of different directions, and thanks to careful, brilliant and balanced writing, I don't hate any of the possibilities.
The Good Wife is the best drama on broadcast television. Some weeks, it's the best drama on all of television. It's smart. It's sharp. It constantly reinvents itself, and it always has something to say. I have no idea where the hell it's going, and that's thrilling.
Your Daily Blend of Entertainment News
Enthusiastic about Clue, case-of-the-week mysteries, a great wrestling promo and cookies at Disney World. Less enthusiastic about the pricing structure of cable, loud noises and Tuesdays.