True Blood's Carrie Preston Is Returning To The Good Wife This Fall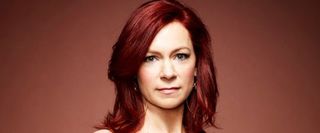 Carrie Preston is bringing her specific brand of wackiness back to the set of The Good Wife. The fiery redhead is probably most known for her role as Arlene on HBO's True Blood, but she has also appeared in several episodes of the acclaimed CBS series over the past two seasons. Now, the showrunners have found Preston something to do in Season 4.
Preston will continue to play Elsbeth Tascioni on CBS' critically acclaimed drama, which follows the Lockhart Gardner firm members, their personal lives, and the court cases they bring in. TV Line first reported the news, stating Preston's character would appear in several episodes later in the fall.
Last fall, Elsbeth was busy getting up into the faces of the people challenging Will after he was hit with bribery charges. You think she's just a cute but strange little woman until she hits you with some hard facts. Tascioni is a funny character and a little exaggerated, but the show often needs that in the face of more serious plotlines. However, since Will should be nearing the end of his suspension tenure, I'm keeping my fingers crossed he won't need any help—or representation—from the perky lawyer's end.
Preston joins a long list of stars joining The Good Wife in Season 4 including Rita Wilson, Colin Quinn, Parker Posey, Amanda Peet, Maura Tierney, Marc Warren, Kristin Chenoweth, and Nathan Lane.
CBS' The Good Wife begins airing on Sunday, September 30 at 9 p.m. ET.
Your Daily Blend of Entertainment News