James Gunn Had A Strong Reaction When He Watched Daredevil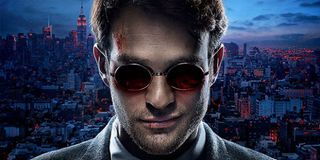 Quite the weekend is upon us with the premiere of Season 5 of HBO's Game of Thrones in just a few hours, and Netflix/Marvel's release of Daredevil this past Friday. It's a massive amount of greatness to take in all at once, and for those of us who have either already binge-watched the entire Daredevil series or are just getting started, it's difficult not to notice all the high praise already traveling through the interwebs. And some of that high praise just came from another beloved Marvel mastermind, James Gunn. The Guardians of the Galaxy director took the plunge into the 13-episode first season the other night, and from the sound of it, he was incredibly touched.
James Gunn has become known for his strong presence on social media, and this time around he took to Facebook to express his opinion on the new Marvel/Netflix series. Though he claimed to be a bit frightened going in (as Daredevil is one of his favorite characters and he is a 'rough TV critic') the director was more than impressed with the outcome.
If you've caught a glimpse of even the first episode, you'll know exactly what James Gunn is talking about. The fight sequences are crazy good. Scott Glenn who plays Stick in the series teased it a few weeks ago when he claimed Daredevil to be the most stunt-heavy series ever made, and boy he wasn't kidding. But it isn't just the action sequences that makes the series so incredible. It shines even brighter through its stellar storytelling. And that is in fact what touched Gunn the most.
Bringing a beloved comic character to life in the most authentic way possible is a quality that Gunn himself has shown in his portrayal of Guardians of the Galaxy. He's taken the Guardians under his wings and given them his own unique flavor, but, as a comic book fan, Gunn has always reiterates how important it is to him to stay true to the fans and tell a great story. Daredevil has followed suit and made a name for itself in the Marvel Cinematic Universe and we can't wait to see how far it goes.
You can catch the entire first season of Daredevil on Netflix right now. As for James Gunn, he'll set out to protect the galaxy once again in his Guardians of the Galaxy sequel hitting theaters May 5, 2017.
Your Daily Blend of Entertainment News
Your Daily Blend of Entertainment News
Thank you for signing up to CinemaBlend. You will receive a verification email shortly.
There was a problem. Please refresh the page and try again.