Jane Curtin Will Be A Series Regular On Unforgettable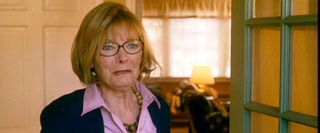 I've always been a big fan of Jane Curtin. While everyone was gaga over Gilda Radner in the original Saturday Night Live cast, I've always had a soft spot for the no-nonsense wit of Curtin's. I loved her in 3rd Rock From The Sun and even her bit part as Peter Klaven's Mom in I Love You, Man. Now, Curtin has landed a brand new TV gig, one that will show off her no-nonsense side.
Curtin's has earned a role as a series regular on the new CBS drama Unforgettable. Curtain will play forensic pathologist Jane Webster, who works with lead character Carrie Wells (Poppy Montgomery) at the NYPD in Queens. According to Deadline, Webster will be a mouthy inspector who used to work in the Medical Examiner's office before being demoted to the Unforgettable crew. While it seems like the relationship between Wells and Webster could get pretty intense, supposedly Wells will come to rely on Webster's expertise. Webster does seem like she will be a softie at heart, even teaching a poetry course.
I'm pretty excited to see Curtin in a more dramatic forum than her usual fodder. If her role is written well, she'll add a little color to a show already based on a colorful premise (For those who don't watch Wells is a detective with a medical condition that allows her to remember everything). CBS may normally run a little heavy on the procedural drama side, but this one a little different from the normal fodder.
Your Daily Blend of Entertainment News
Thank you for signing up to CinemaBlend. You will receive a verification email shortly.
There was a problem. Please refresh the page and try again.